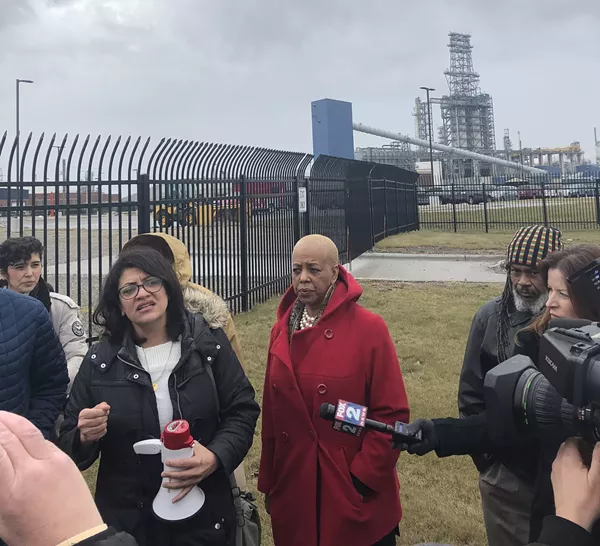 Rain pounded the dozens of protesters in Southwest Detroit on Monday afternoon as motorists passing by 1001 Oakwood honked in solidarity. Marathon Petroleum security, meanwhile, kept a watchful eye.
A panel of residents, community organizers and state representatives stepped in front of the crowd to air grievances regarding the handling of a weekend malfunction at Marathon Petroleum's oil refinery in Southwest Detroit.
Residents in the area and as far as Dearborn were awakened early Sunday morning by a smell that many described as "rotten eggs." Around 4 a.m., Michigan State Police began to receive complaints from residents, MSP said.
In a
series of tweets
, MSP announced they were investigating the Marathon Petroleum Refinery as the origin of the smell, but assured residents that there were no air quality issues. Residents, however, report that the air caused dizziness and vomiting.
By 10 a.m., Marathon Petroleum released a statement explaining that there was a malfunction that released a foul odor, but that there were no "dangerous levels of any substances" in the air.
"We apologize for the inconvenience to the community, and we are conducting a thorough investigation to determine what caused this release," the statement reads. "Once determined, will implement the necessary corrective actions so that this does not happen again."
On Monday afternoon, almost 40 protesters congregated at the gates of the Marathon Oil refinery. Some recounted their Sunday mornings, when they awoke to the stench and felt immediately ill, forcing them to evacuate the neighborhood. Others took aim at Marathon Petroleum and the Michigan Department of Environmental Quality for lack of oversight and accountability.
"I was jolted awake at 3 a.m.," said Southwest Detroit resident Christy Beiber. "We felt we were not safe in our home, so we piled into the car and we just left."
Other residents echoed the fear felt by Beiber and emphasized that is not the first time the safety of residents of Southwest Detroit has been disregarded.
"We are a vulnerable population," said lifelong resident Theresa Landrum, citing the concentration of "heavily polluting industries" and the remarkably high asthma rate in Southwest Detroit. "The community's right to know has been violated."
Elected officials then spoke about steps to be taken.
"I've got a loud mouth!" shouted surprise speaker, congresswoman Rashida Tlaib, as the crowd cheered and hollered. "Just like in Flint, when they say the air is clean, don't ever believe them," she said into the megaphone.
State Rep. Tyrone Carter, who lives within a mile of the Marathon oil refinery and represents
district
6, which borders the plant, wants to prepare an evacuation plan for emergencies in Southwest Detroit like this.
"We do not have an evacuation plan for the only oil refinery in the state of Michigan," he told the crowd. "What happened this weekend was bad, but god forbid something really tragic happens."
He went on to say he will advocate for policy that creates more transparency and accountability in the area.
"We can no longer allow for industries to self-report," he said, referring to the Michigan Department of Environmental Quality, which he says allows companies like Marathon Petroleum to self-report figures on toxic chemicals. "MDEQ has failed us in many ways."
State Rep. Cynthia A. Johnson, who represents
district
5 where the Marathon Petroleum refinery is located also did not mince words: "Marathon Oil, I want to say you directly - under no circumstances, as an elected official will I ever take anything, not one dime, from you, not at the risk of our families, our children
and
our seniors."
"Shame on you," she added. "We need accountability."

Editor's Note: The article originally attributed the malfunction to Marathon Oil instead of Marathon Petroleum.

Will Feuer is an editorial intern for
Metro Times
.

Stay on top of Detroit news and views. Sign up for our weekly issue newsletter delivered each Wednesday.