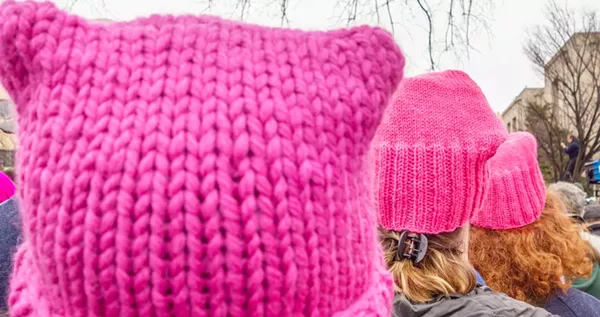 The Women's Convention taking place Oct. 27-29, will bring
national, state, and community leaders who are at the forefront of the women's rights and progressive movement under the same roof as everyday citizens
— or at least those who were able to afford the pricey tickets or lucky enough to get a scholarship.
Tickets for the gathering at Cobo Hall in Detroit cost $295, plus an $8.37 online processing fee, for three-day general admission. For youth (under the age of 25) and students, it's $125 and $4.12 in processing — one-day passes for Friday or Saturday have the same costs. On Sunday, it's $75 and $2.87 processing.
Merriam-Webster defines feminism as "the theory of the political, economic, and social equality of the sexes," and The Women's Convention has branded itself as an intersectional gathering that welcomes people regardless of their sex, gender identity, sexual orientation, race, physical or cognitive disabilities, religion, or socioeconomic class.
Its tagline, "Reclaiming Our Time," was first pronounced by U.S. Rep. Maxine Waters (D-Calif) during a House Financial Services Committee in August, and the phrase has since become a rallying cry for minorities who have been ignored, unheard, silenced, and spoken over.
Yet, there's an important segment of people who have opted out of attending The Women's Convention: the individuals who champion the cause, have the same values, and are affected by the same social barriers, but cannot
afford
to reclaim their time.
Deborah Podorsek, 30, is a single mom living with her 12-year-old son in Brownstown Township. She's attending Henry Ford College part-time to complete her second associate's degree while working for online grocery delivery service Shipt, as an independent contractor through Amazon Flex, and also as a stylist for Color Street.
Podorsek says she she was interested in attending, but financially, the cost was unrealistic for her lifestyle.
"When I saw the price, I immediately disregarded any thought of going because it was that far out of my budget," she says. "I think it's also important to mention, that price in a city such as Detroit seems particularly insulting. It seems aimed solely at women who are already established in their careers (based on the price) and is therefore ignoring the opportunity to hear from and share with thousands of women who have important things to contribute, or could greatly use the knowledge gained from this conference to ignite change, but cannot due solely to lack of finances."
Tatiana Grant, spokesperson for The Women's Convention, says a factor in the ticket pricing was the high production costs involved in hosting the event at Cobo Hall, a labor union facility.
Additionally, food and beverage costs bumped up prices, but Grant says The Women's Convention knew attendees would be making investments and sacrifices to pay ticket fees, so organizers wanted to make sure food was included.
"The main thing is that, of course we know that the cost is prohibitive," she says. "However, when we look at other conferences and the cost for their admission, we know that we are putting on a quality convention. If you look at the lineup of speakers, these are the industry leaders in social justice, civil justice, women's rights, just the entire realm of activism. ... So, knowing the production costs that go behind it, it kind of, unfortunately, is what it is. Many people are even donating some of their time, even the team that's working on this is donating their time. So, when we look at what the costs could have really been, it could have been much higher."
Grant says The Women's March is a nonprofit organization and the impending convention is "profit neutral."
Metro Times
requested a cost breakdown for the convention, but Grant was unable to provide one. Additionally, a cursory search on the IRS' national database of 501(c)(3) and tax exempt nonprofits did not yield any results for "The Women's March" or "The Women's Convention," although it is possible the group is registered under a different name.
Knowing the ticket price would be a barrier, Grant says organizers promoted scholarship opportunities from the very beginning.
The Women's Convention set up a crowdrise-funded scholarship program and outside groups also created other scholarship opportunities. For instance, the Heather Heyer Fund provided scholarships for applicants between 18 and 35 who have been involved in anti-racism and racial justice work. The donation is in memory of its namesake, who died protesting white supremacy in Charlottesville, Virginia. Additionally, local nonprofit Girls Making Change coordinated youth scholarships.
According to the convention's crowdrise website, $150,080 was raised for scholarships to benefit attendees.
Much of the money included in this national pool came from small grassroots donations, but Grant says two local donors played a big role: former Detroit Lions linebacker DeAndry Levy and his wife Desiree contributed over $30,000 (which was used for scholarships and to help pay for Social Justice City, an exhibitor booth area for local small businesses) and Detroit Pistons head coach Stan Van Gundy and his wife donated $10,000.
As a result, Grant says the over 700 scholarships were allocated to women across the nation, and of those, 300 went to women in Michigan.
However, Podorsek says she looked into the links provided to scholarship applications, but received a message the scholarships were no longer available.
"I reached out to them on their Facebook page about the issue, three times I believe, and never received a response. And I know I'm not the only one who was encountering this issue or looking for more accurate information, simply based on other posts on their page," she says. "I have worked on planning committees for similar events and I understand all the planning that goes into these things. However, I am disappointed that scholarships were publicly offered, but it did not seem as though they were used (or) offered properly. I think in this area they could have done better."
Grant says The Women's Convention promoted different rounds for scholarship applications up until they could no longer provide them. She says when a
Detroit Free Press
article came out on Oct. 9 regarding 31 more scholarships for Michiganders and 30 scholarships for girls and young women (ages 11-22) of color with an interest in political leadership, the influx of applicants put them over the top.
Browsing through the online application links for scholarships, all have now been closed.
However, Grant says the convention is still in the process of looking for volunteers to fill work slots, and anyone who donates their time is welcome to stay the rest of the day.
Roslyn Onickel, 54, from Southfield, works in art therapy and catering. She says she went to the Women's March in Lansing after the presidential election and found it inspiring and energizing, so she was psyched for the convention — until she saw the price.
Onickel says the scholarships offered, one-day passes and opportunities to stay for volunteers still don't make the event as inclusive as lowering the prices would have.
"I think it took away from the message, because there's going to be a lot of people who will not be there because of the cost — which seems self-defeating. But again, that's just me," she says.
Looking to alternatives, Onickel says she thinks there could have been options so individuals could go to certain workshops or see specific speakers. However, it appears to her that recent lineup changes make it seem as though organizers didn't listen to enough feedback to their ideas before planning began.
Nonetheless, Onickel says her views and her values will remain the same, even if she cannot attend the convention.
"I've been a feminist since I was 10. I went to the pro-choice march in the '80s in D.C., I escorted women into clinics when I lived in Chicago. I don't need a convention to be a feminist, to try and inspire other people to see that equality is good for everybody and takes nothing away for anybody. It would have been lovely to be with a whole lot of people who felt the same way I did," Onickle says. "But I will continue on as I always I have."
More than 4,000 tickets to The Women's Convention have been sold, and Grant echoes the sentiment of an enduring mission, saying the movement extends beyond a weekend event.
"This work will need to continue to be done," she says. "So, even if they are unable to actually attend the convention, there's still work to be done in people's backyards."
Aleanna Siacon is an editorial intern for the
Metro Times
. She is a senior at Wayne State University studying journalism, political science, and history.