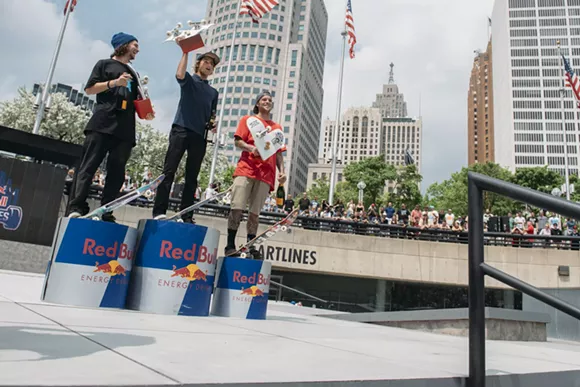 Despite a last-minute time change caused by last weekend's rainy weather, an estimated 6,000 spectators came to Hart Plaza in Detroit to watch the Red Bull Hart Lines skateboarding competition. The event, which featured qualifying rounds on Friday and finals on Saturday,
transformed Hart Plaza into a skateboarding contest course
. It was free and open to the public.
On Saturday, Curren Caples (Ventura, Calif.) was awarded first place honors for both completing his runs the fastest. Torey Pudwill (Simi Valley, Calif.) landed second place and (San Clemente, Calif.) Ryan Sheckler — who conceived the event — came in third.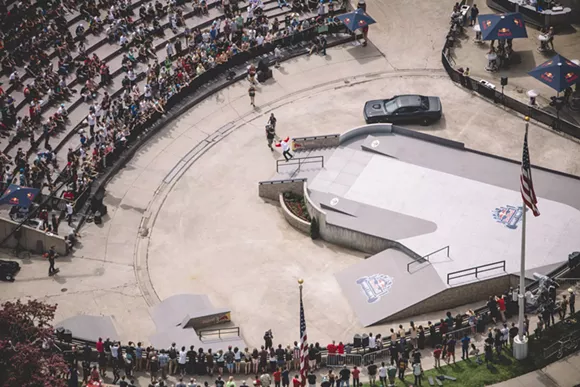 The results of the Red Bull Hart Lines Finals are:
Name/Nationality: Overall Score: Time Penalty: Adjusted Score:
1. Curren Caples (USA) 89.17 -1 88.17
2. Torey Pudwill (USA) 83.33 -7 76.33
3. Ryan Sheckler (USA) 79.17 -4 75.17
4. Chris Cole (USA) 77.67 -3 74.67
5. Evan Smith (USA) 78.33 -5 73.33
6. Alec Majerus (USA) 72.17 -6 66.17*
7. Ryan Decenzo (CAN) 68.17 -2 66.17*
8. Youness Amrani (BEL) 66.00 -8 58.00
*Tiebreaker was decided by best second run score
Read our interview about the Red Bull Hart Lines event with local skateboarder Derrick Dykas
here
.