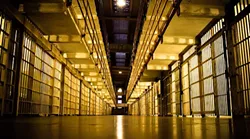 One out of 10 Michigan children have had a parent incarcerated, according to a newly
released report
from Baltimore's Annie E. Casey Foundation.

A Shared Sentence: The Devastating Toll of Parental Incarceration of Kids, Families and Communities,
by the foundation's Kids Count Data Center, found that in 2011-12, the last year data was available, 228,000 Michigan children have had a parent incarcerated. This high figure — 10 percent of the state's total number of kids — ranks Michigan among the states with the highest number of children with incarcerated parents. Michigan tied for third place with Ohio, Tennessee, Oklahoma, New Mexico, and Alaska.
"The saying is all too familiar: Do the crime, do the time. But in America's age of mass incarceration, millions of children are suffering the consequences of their parents' sentences and our nation's tough-on-crime practices," write the report's authors, who say "the incarceration of a parent can have as much of an impact on a child's well-being as abuse or domestic violence."
A family's income can drop by an average of 22 percent when a father is locked up, according to the report, which points out that when both parents are incarcerated children often end up with family members who can not offer the proper supports. "
Parents left behind
are more likely to cite problems with child
care as a reason for quitting or not taking
a job," write the authors who point out that African American kids are seven times more likely to have a parent behind bars, and Latino kids are three times more likely.
While the report focuses heavily on the reverberating and traumatic effects of parental incarceration on a child, there is also a deep acknowledgement of how this situation — more than 5 million children nationally having had a parent in jail or prison at some point in their lives — came to be: the era of mass incarceration.
"Our nation's overreliance on incarceration has left millions of children poorer, less stable, and emotionally cut off from the most important relationship of their young lives," Patrick McCarthy, president and CEO of the Casey Foundation, says in a press release for the report.
To understand how Michigan tops the list, one has to fully understand the state — and specifically Detroit's — relationship with police and ultimately the criminal justice system.
In
Unmaking the Motor City in the Age of Mass Incarceration
, University of Michigan historian Heather Ann Thompson breaks down how strides in the civil rights movement coincided with the introduction of the War on Drugs and Crime, which have had devastating effects on not only those who are being locked up, but their children, families, and the community at large.
"By removing record numbers of people from their neighborhoods for record periods of time, mass incarceration causes neighborhoods in the Motor City to literally collapse," Thompson writes.
As she explains it, the very outcomes of unrest in 1967 cripple Detroit today; nationally the civil rights movement birthed the war on crime and mass incarceration.

In the summer of of 1967 Detroit erupted in rebellions as a response to years of unmitigated police brutality that hit its apex following a zero-tolerance raid on a popular African American after-hours bar. Five years later, the city elected its first black mayor, Coleman Young, who ran for the position on a platform promising to alleviate strains between the police and the city's black citizens. Within months of taking office, Young disbanded the department's contentious plain clothes tactical squad S.T.R.E.S.S (Stop the Robberies, Enjoy Safe Streets). Then-police commissioner John F. Nichols credited S.T.R.E.S.S. with reducing robberies by 15 percent, while the NAACP and Rep. John Conyers pointed to the squad's killing of 22 residents over an 18-month period and arrest of hundreds without cause.
Young's elimination of S.T.R.E.S.S was celebrated by many Detroiters — as was his introduction of a hiring system that aimed to diversify the majority-white force — it, however, was not the end of a tense relationship between police and citizens. Just as black Detroiters were relishing in the outcomes of the 1967 uprising — a black mayor, a sign of power in local government — the federal and state government planted roots for the War on Drugs and Crime that would build a penal system that sociologist Alice Goffman describes in her book On the Run: Fugitive Life in an American City as having "no historic precedent or international comparison."

In 1968, for example, one year after the rebellion, President Lyndon B. Johnson created the Law Enforcement Administration to "improve and strengthen law enforcement." In order to get federal funds, departments had to show they had a crime problem. It was during this time, according to Thompson, that the inner city became more criminalized and Detroit, specifically, became viewed as a hot spot for this War on Drugs and Crime.

Fast-forward a couple decades — and numerous new punitive legislative measures — and Michigan's prison population has ballooned by 538 percent — from 7,834 people behind bars in the 1970s to 42,940 in 2011.

"The war on crime and war on drugs eclipsed the gains of the civil rights movement," Thompson tells MT. "It doesn't matter if you're a black police officer, or Latino police officer or male or female, you have a job to do and that job is to wage the war on drugs — to have a certain amount of policing presence in the community and a certain number of arrests."

For Michiganders the outcome of this punitive system has been traumatizing, and as the Annie E. Casey report points out, little focus has been paid to the most vulnerable members of society being affected by these policies: kids.

"For children and families, incarceration is not a one-time event but a daily reality that lasts well beyond a jail sentence or prison term," write the authors of the report.