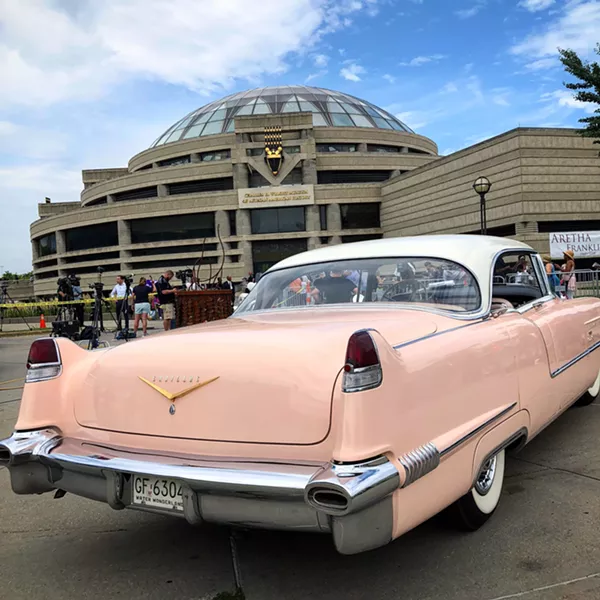 Mourners gathered at the Charles H. Wright Museum Museum of African American History today to pay their final respects to the Queen of Soul, Aretha Franklin.
The lines wrapping around the museum did not suggest a morbid tone. On the museum grounds, a DJ mixed in Aretha's greatest hits, museum personnel
passed
out free water, and fans took pictures of the pink Cadillac and the white banner affixed to the front of the museum that read, "Honoring the Queen of Soul and international Detroit treasure."
Inside the museum, the mood changed, however. Ushers passed out funeral programs as individuals quietly walked through the hall for a final look of the Queen of Soul. While walking through, one woman openly sobbed, reminding those that passed through of the void that is left in the African-American community through the loss of a cultural and civil rights icon.
Franklin's music filled the otherwise quiet room, and dozens of large floral arrangements including powder pink and lavender roses surrounded the hall, final gifts from her closest relatives and friends. Franklin's body, clad head to toe in a bright cherry red, looked peaceful and spoke to her vivacious spirit in life.
The loss of Aretha Franklin has been felt greatly by the Detroit community and worldwide. Her accomplishments and musical contributions are those that will not be forgotten. Her casket, emblazoned in gold embroidery simply reads in cursive script: The Queen of Soul Aretha Franklin.
And what a queen she was.
The two-day viewing is being held free to the public at Charles H. Wright Museum of African American History. Aretha will be laid to rest this Friday at Greater Grace Temple on Seven Mile. The funeral will be live streamed and available to view at
greatergrace.com.

Stay on top of Detroit news and views. Sign up for our weekly issue newsletter delivered each Wednesday.