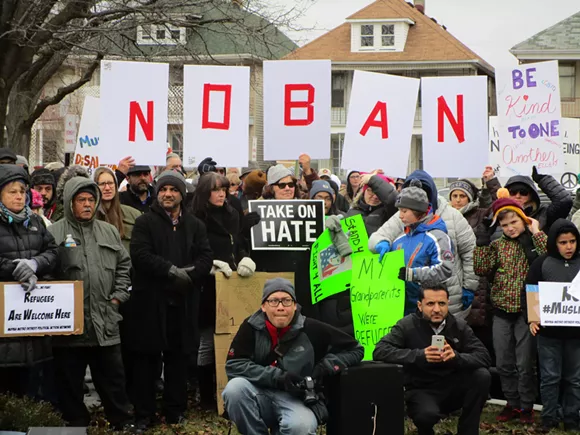 Hundreds of people gathered in front of Hamtramck City Hall on Sunday — joining thousands across the state and many more across the country protesting President Donald Trump's executive order restricting immigration from seven Muslim-majority countries.
The rally was organized by Metro Detroit Political Action Network, a group founded in the wake of the 2016 presidential election, to mobilize metro Detroiters and show solidarity with the area's Muslim population.
Organizers Ahmed Ghanim and Adriene Avripas said they began Facebook messaging late Saturday night after seeing the protest at JFK Airport. "It started out as a group message and within ten hours, we'd planned this," Avripas says. "We did not expect this turnout, this is crazy."
Numerous metro Detroit residents spoke before the crowd, sharing personal stories of immigration and rallying for all in attendance to band together against the rhetoric and policies of the Trump administration.
"People feel the need to unite and voice their concerns," says Ghanim, an Egyptian American who compared the current US political climate to the period of time before the Egyptian Revolution in 2011 during his address to the crowd.
The event's organizers worked with a number of partner organizations including ACLU Michigan, Michigan Immigrant Rights Center, Michigan Peoples Defense Network, BAMN, and the Hamtramck City Council, and worked to coordinate carpools to the Detroit Wayne Metropolitan Airport where an additional protest was held.
According to the
Detroit Free Press
,
an estimated 2,500 protested outside of DTW
— while hundreds more
protested in Dearborn
, home of the highest concentration of people of Middle Eastern descent in the U.S.
The executive order issued Friday suspends entry into the United States of all refugees for 120 days, bars Syrian refugees indefinitely, and blocks entry of citizens of Iran, Iraq, Libya, Somalia, Sudan, Syria, and Yemen for 90 days. Other protests occurred in cities across the nation, including Boston, New York, Los Angeles, and Washington, D.C.