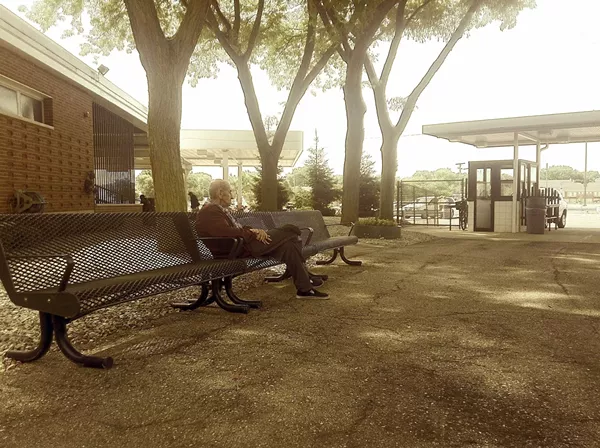 HAZEL PARK, Mich. — Thoroughbred racing returns to Hazel Park Raceway tonight for the first time since 1984. The track, which opened at 10 Mile and Dequindre in 1949, has been used exclusively for harness racing for the last 30 years.
But because of dwindling attendance and stiff competition from local casinos, the track is gambling that a shift back to thoroughbreds will jump-start its business again.
It's a gutsy move on the part of Hazel Park. Open year-round for simulcast wagering, the track draws a mostly older crowd, and it desperately needs some young blood to regain its relevancy. In recent weeks, Hazel Park Raceway has invested approximately $250,000 in a new racing surface, a soft sandy loam with a limestone base that's ideal for thoroughbred horses.
Leroy McKesson, 98, started working at Hazel Park as a mutuel clerk when it first opened in 1949. These days he's one of Hazel's regular horseplayers, wagering on simulcast races from tracks in New York and Philadelphia. McKesson's hopeful that Hazel Park's return to live thoroughbred racing is a winning bet.
"I think it's a good thing," he says. "It'll be good for business, and it'll bring a lot of younger people in. Younger people don't care too much for trotters. They come for the thoroughbreds."
Lawrence LeShore is another clubhouse regular. And at 42, he's one of Hazel Park's younger patrons. And perhaps its most organized. LeShore maintains multiple systems for playing the horses, with stacks of charts, colored pens, pencils, and markers. He certainly looks like he knows what he's doing.
Reserved and soft-spoken, LeShore is a man of few words. But when asked how long he's been playing the horses, LeShore answers immediately: "Since I come out the womb."
Early Tuesday morning, Tony Kruzman, a retired schoolteacher and first-time owner, was pacing the apron near the finish line waiting for his horse to come out and exercise for the first time at Hazel Park.
"I'm like an expectant father walking back and forth," he said.
Kruzman's horse, a 3-year-old gelding named A Jury of Peers, started training two months ago. Kruzman is hopeful he'll race here later this summer.
"I've fallen in love with this horse," he said.
Hall of Fame trainer Jack Van Berg, who won the 1987 Kentucky Derby and Preakness with Alysheba, trained horses at Hazel Park for years in the 1960s and '70s. For the first time in years, Van Berg was back trackside Friday morning.
"I always loved Hazel Park," he said. "I always thought it was a great thoroughbred track. I always liked the people and the fans of Michigan and Detroit. I think they deserve this. It's a great thing for the racing fans of Michigan."
Van Berg and his father, the late Marion Van Berg, enjoyed much success here in Hazel Park's heyday. "[This] place was packed with people all the time," Van Berg said. "They like that 5/8-mile track."
Oak Park native Mike Holmes will be riding at Hazel for the first time in his career tonight. His mount in the first race is the 6 horse, Air It Out. Holmes, whose father and uncle rode competitively here for years, is excited to finally make his debut at Hazel. "You might say it's a family tradition," he says.
Holmes, 41, is an auto mechanic by day and has been racing horses all around the Midwest and Canada for 12 years. On Tuesday, after exercising a few mounts at Hazel Park in the morning, Holmes jumped in his car and made a 10-hour round trip to Indiana for a 15-second quarterhorse race, filling in for the injured Lee Gates.
Aboard Botticelli Shake in the ninth race, Holmes came in first.
"I was so glad I could get the job done for Lee," he said.
With the failure of thoroughbred racing to take root in recent years at other Michigan tracks, including Great Lakes Downs in Muskegon and Pinnacle Race Course near Metro Airport, Hazel Park's latest bet appears to be a long shot.
But after months of preparation, Hazel Park is expecting a big crowd tonight. Van Berg will be signing copies of his biography, From Grit to Glory, and one of Hazel's first female jockeys, Jeannie Maxwell, will also be on hand.
Hazel Park will host nine races tonight, eight of which will be four furlongs in distance.
Post time for the first race is 7:30 p.m. Admission is free.
Hazel Park Raceway is located at 1650 E. 10 Mile Rd.
For tonight's entries, visit equibase.com.