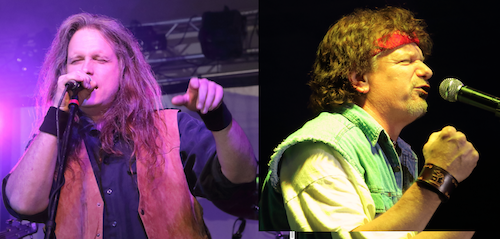 This weekend, concertgoers in Port Huron are going to witness a kind of once-in-a-lifetime experience. It will be a confrontation of the classic rock giants, a battle between two rock behemoths seldom seen sharing the same stage: Bob "Silver Bullet" Seger versus Bruce "The Boss" Springsteen.
Too good to be true? Well, actually, yes, of course, it's too good to be true. The Seger band is actually a tribute act called "Lookin' Back" and the Springsteen band is "The Boss Revue." But when it comes to "staying true to an artist's sound" there's plenty of truth to be had here.
In fact, while "genre" bands are seeing a bit of a surge in popularity — look at the popularity of the
Mega 80's
, booked every Saturday at Ferndale's Magic Bag, for instance — they're something quite different from tribute acts.
Or so says Todd Stoney. Self-described as the "mayor" of
Tributesville
, an entertainment endeavor that seeks to present performed music of to the standards of the originals, Stoney's very clear on what sets a Tributesville act apart.
"It's dedication, basically," Stoney says. "To an artist, not a genre or a time frame. When you focus on a specific artist, you're getting into nuance and energy. You're getting into what makes an artist special."
For example, Stoney naturally points to Bob Seger and his band. "Bob's real detail-oriented," Stoney says. "The guys he plays with can re-create the sound he hears in his head, and that's kind of the way I've treated this. What makes us different is the level of dedication to the artist, and knowing we've got people coming out to see Bob Seger's music played on a certain level."
With "tribute artists," you're getting a performance that is often note-for-note perfect. And that's what separates them from the other musical acts. "Some of them do a fantastic job, but you don't generally get that from a genre band or a wedding band," Stoney says.
Part of the magic is having a tribute act in which all members are fans, most of them going back 50 years. "You've got to have fans in the core group," Stoney says. "Otherwise it's a job. It's work. It's just another gig. In this case we all look forward to playing the music we all have in common. That's fun. That's exciting, that's not work.
Doing it right is all the more important, since they're a metro Detroit band covering a metro Detroit recording star. "Bob deserve it," Stoney says. "We're in his back yard. I want Bob and his fans to be proud of what we're doing here."
In fact, Stoney has such high standards for tribute bands, he searched long and hard for a Springsteen tribute band worth battling. And he finally found one in "The Boss Revue."
Interestingly, the Springsteen tribute project began as a "boys' night out" activity for a quartet of local lawyers. Lest you doubt their professionalism, Stoney says, "They're a worthy opponent. They've been around a while. … I was surprised to find out they practice in West Bloomfield, 10 minutes away from where I live. I sat through a practice: By the end of the set I was in tears."
So there you have it: In one corner, "Lookin' Back" with Mark Salvaggio performing the vocals as their "Bob Seger." In the other corner, "The Boss Revue" with G. Gus Morris performing the vocals as the band's "Bruce Springsteen."
But these artists aren't necessarily look-alikes. They are true to the spirit and the sound of the original artist, which is the most important.
Which band will prevail? That could be determined at a date later than the performance depending on how Tributesville collects its votes. But Stoney has an answer on who's the winner of these battles: "The audience always wins," Stoney says.
Stoney says there's nothing like it when two tribute artists match each other song for song, thanks to the competitive spirit that it engenders.
"Boys will be boys," Stoney says. "My band does not want to be outdone by the other band, and neither do those guys."
On the evening of Feb. 4, 2017, Tributesville features Lookin' Back and the Boss Revue, in a dueling concert at the spacious McMorran Theater stage, 701 McMorran Blvd., Port Huron; 1-800-858-6166; doors at 7 p.m., concert at 8 p.m.; tickets are $25; for tickets, click here.