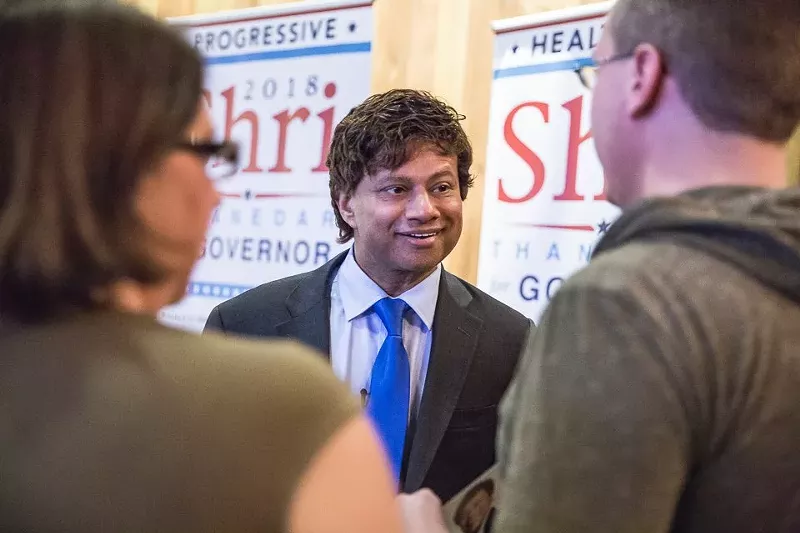 Well here's a somewhat surprising finding from a recent
poll
on Michigan's field of candidates for governor: The outsider with the hard-to-pronounce name, Shri Thanedar, has more name recognition than both Michigan's lieutenant governor and the Democrat frontrunner. He also has the highest favorability rating of any leading Democrat in the race, according to a recent poll of likely Michigan voters.
As of about 10 days ago, 47 percent of those surveyed by EPIC-MRA hadn't heard of Thanedar, compared with 65 percent who didn't recognize Democrat frontrunner Gretchen Whitmer's name. The survey of 600 people was conducted between Feb. 24 and Feb. 27, days before Whitmer opened a Detroit campaign headquarters and received a key endorsement from
Detroit Mayor Mike Duggan
.
Thanedar also beat out Lieutenant Gov. Brian Calley in name recognition. Almost 60 percent of likely voters didn't know who Calley was, despite the fact that he's been in the public eye quite a bit since Snyder made himself scarce following the Flint water crisis.
The recognition likely hinges on a folksy and rather funny TV spot Thanedar aired during the Super Bowl. In the ad, the chemist and business man acts as if he's introducing himself to voters for the first time and trying to help them properly pronounce his name. A voiceover offers a few phrases to let Michiganders know what Thanedar's about: "For single-payer healthcare," "not a single penny in corporate money," and "the most progressive Democrat for governor."
Those phrases may have resonated with likely voters. EPIC-MRA found that Thanedar has the highest favorability rating among Democrat candidates for governor, at 18 percent. Compare that to Whitmer's 13 percent and Democrat candidate Abdul El-Sayed's 7 percent. Only Bill Schuette has a higher favorability rating, at 24 percent. Calley lands at 12 percent.
Thanedar appears more polarizing than some of his opponents, however. His unfavorability rating is 12 percent, while Whitmer's is just 4 percent.