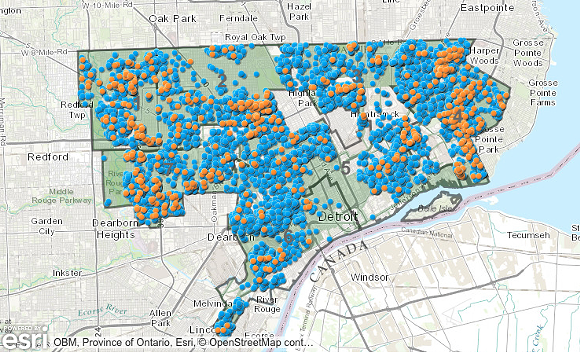 On Friday the City of Detroit released a new "
Demolition Program Map
" that allows you to search an address and see when houses around it are slated to be torn down.
The interactive is particularly useful for citizens who live in highly blighted neighborhoods and maybe have questions about if or when the dilapidated shells around them will be bulldozed.
As the map works, houses that are projected to be torn down show up as orange dots and those that have been knocked down since January 2014 (when Mayor Mike Duggan came into office) are blue dots. While the map is a useful tool when trying to re-imagine what certain neighborhoods will one day look like, it's also pretty awesome when it comes to scaling back and taking in all that has been accomplished in the last two years.
According to data presented on the map, since 2014 the city has demolished 9,524 buildings and there are more than 700 (currently marked orange) buildings that are slated to be torn down in the next 90 days. The site also notes that the average residential demolition cost in 2016 was $12,243.
This last stat is particularly significant, as Duggan and the Detroit Land Bank, who runs the city's demolition program, are currently under investigation by the FBI, who are looking into bidding practices as well as the rising costs of demolitions.