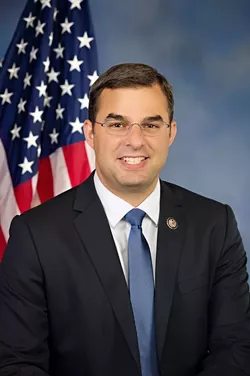 In case you somehow missed it,
Trump fired James Comey
, the director of the FBI, and the man who was leading the investigation into Trump's ties to Russia.
Many people are calling the move "Nixonian", while
Kellyanne Conway
says it "had nothing to do with Russia." Either way, many Democrat lawmakers are calling for an independent prosecutor to step in and lead an investigation.
Many politicians on the right are also calling for an investigation. One such Republican, Congressman Justin Amash of Michigan's third district, tweeted a bold statement for even a Republican yesterday.
My staff and I are reviewing legislation to establish an independent commission on Russia. The second paragraph of this letter is bizarre. https://t.co/wXeDtVIQiP

— Justin Amash (@justinamash) May 9, 2017
The letter that Amash is referring to is Trump's letter dismissing FBI Director Comey.
Here's the letter President Trump sent to FBI Director James Comey regarding his dismissal https://t.co/x37fjFJ5Wt pic.twitter.com/MqBoHkRLLl

— CNN (@CNN) May 10, 2017
Other Michigan lawmakers have spoken out against Comey's termination including Senator Debbie Stabenow, Senator Gary Peters, and Rep. Dan Kildee. But besides Amash, Republicans from Michigan have been silent on the issue.