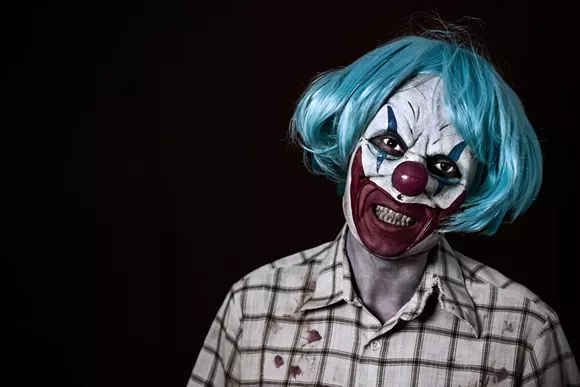 Yesterday we told you about a
creepy clown sighting in Clinton Township
that happened early Sunday morning. A sinister-looking jester was spotted around 2 a.m. just standing in a car wash, waving to a car full of passersby.
These types of sightings have been happening all over the country, particularly in Greenville County, South Carolina, where a number of individuals have reported seeing creepy clowns near a wooded area, some of whom were allegedly trying to lure away children with candy.
So, you know, people are freaked out.
Earlier today, the
Detroit Free Press
reported another clown sighting in Lake Orion. A man snapped a photo of a prankster standing behind an ice cream shop. The camera shy clown ran off after having his picture taken.
More clown sightings have been reported in the area, including one in the Downriver city of Woodhaven that took place on Oct. 3. A group of students allegedly spotted a clown "hiding behind a tree" near Hall and King Roads, but didn't get a photo.
Yo!!!!! We just seen a clown by King and Hall rd. WHAT THE FUCK!

— Téo Luna (@TE0_LUNA) October 3, 2016
And it doesn't look like the sightings are going to end any time soon. A new Twitter account with the handle @killerclowntroy started sending out some sinister tweets this morning.
coming to your neighborhood soon

— Troy Clown (@killerclowntroy) October 4, 2016
While the whole thing could be as simple as a couple pranksters hoping to give some people the willies this Halloween season or as elaborate as some sort of large-scale promotional scheme, these clown sightings are putting people everywhere on edge. And when a community is on edge, it's the perfect landscape for lynch mob mentality to take over.
For example, in
Cleveland a mob of Kent State students
went on a hunt for these hellish harlequins after a rash of clown sightings.
Troy police have issued a warning to the Troy Clown via Twitter, alerting the prankster to the possibility that people could lash out violently.