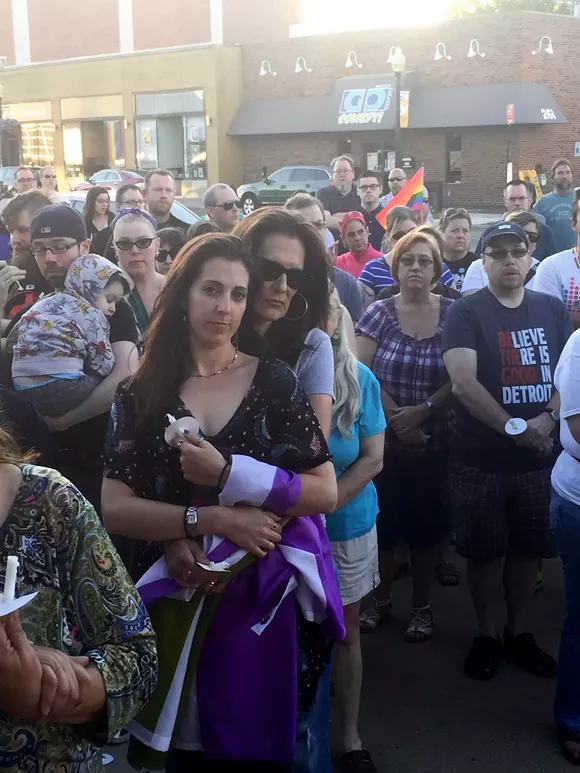 A Sunday vigil in Ferndale for the victims of a massacre at a gay nightclub in Orlando reflected a somber tone and message of unity from an LGBTQ community attacked during Pride month in the worst mass shooting in the nation's history.


The shooter — identified by law enforcement as Omar Mateen, 29 — was killed early Sunday by police after opening fire with an assault rifle and handgun inside Orlando's Pulse nightclub, leaving 50 dead and more than 50 injured, police said.


Berkley resident Laura Quirk said the reality of the murders brought her close to tears.


"This could have been me," said Quirk, who came to the vigil with her wife, Katie Lamb. The Berkley couple married in New York City prior to the legalization of same-sex marriage in Michigan following a landmark June 2015 U.S. Supreme Court decision.


The two joined more than 100 people outside Ferndale City Hall who embraced, held hands, and in many cases wept as speakers including Mayor Dave Coulter, Ferndale Pride Chairwoman Julia Music, and clergy members talked of the carnage in Florida. A rainbow flag whipped in the wind alongside an American flag near the podium.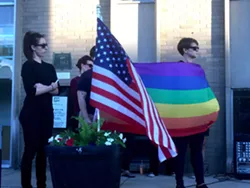 Orlando joins a list of places synonymous with tragedy: Sandy Hook, the World Trade Center, Charleston, S.C., and others, Coulter said: "When will we learn?"


Eddie Mitchell, 32, of Detroit, held a sign that read: "Hope will never be silent."


"We will not be driven back into the closet. We've fought for decades for our rights and equality. We will not be intimidated," Mitchell said. The shooting "could have been last night in downtown" Detroit, he said.


Since the news of the Orlando killings broke, Oakland County Sheriff Michael Bouchard has spoken with the FBI and its Joint Terrorism Task Force, the Department of Homeland Security, and Orange County, Fla. Sheriff Jerry Demings.


"We stand united, opposed to the vision of hate and vision of evil that exists in our world," Bouchard said. "Together, we'll get through this, and more importantly, we'll get beyond this."


Oakland County will hold a blood drive Tuesday in support of Orlando.

With the mass shooting occurring during the charged atmosphere of a presidential election year, Bouchard urged against politicizing the tragedy and drawing conclusions while a criminal investigation remains underway.


"I would ask every political party and person to focus first on the victims and families, and not jump into the politics," he told MT.


Music, the chairwoman of Ferndale Pride, cautioned against discrimination toward Muslim Americans after Sunday's killings, pointing out metro Detroit's large Muslim population. "They face unspeakable acts of discrimination just for being Muslim in this country," Music said. Mateen, who was born in the U.S., was of Afghani descent.



Signs at the vigil carried messages such as "We are Orlando" and "Love wins."


Angela Lippard's voice broke Sunday as she recalled her own introduction to the LGBTQ community at a gay Detroit nightclub. "I think about how safe I felt when I was in college going to Menjo's with my Latino friends," said Lippard, deacon at Christ the Good Shepherd Church in Ferndale.


After the vigil ended, a circle of people sang Holly Near's "We Are Singing For Our Lives" on the lawn in front of City Hall: "We are gay and straight together/and we are singing, singing for our lives."


Visit redcrossblood.org for a list of American Red Cross blood donation centers in metro Detroit, and call 313-549-7048 for more information.