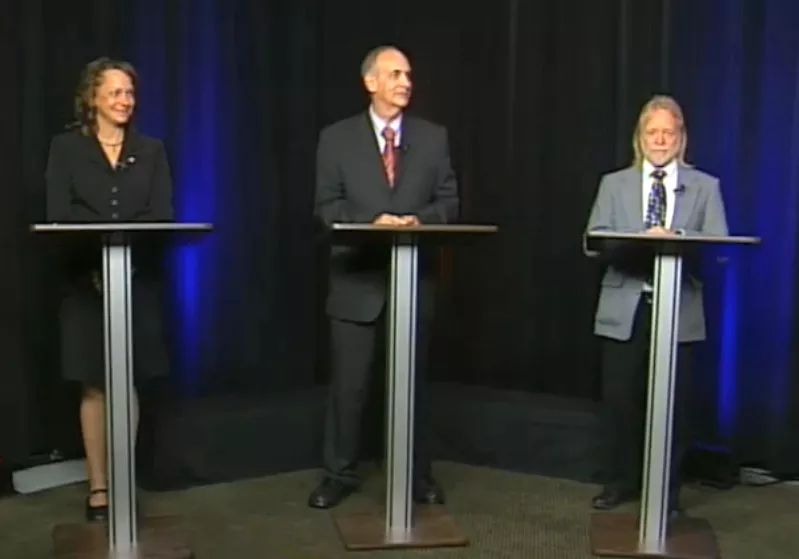 Just because most voters don't have a clue about them doesn't mean the three third-party candidates running for governor of Michigan don't have anything interesting to say about taxes, prisons, the state's debt and their philosophies about the role of government.
The trio — Stacey Mathia, from the U.S. Taxpayers Party, Harley Mikkelson, from the Green Party and Ken Proctor, from the Libertarian Party — appeared at CMNTV studios in Troy last week for a roughly hour-long debate.
"I'm tired of hearing that a third-party candidate is not electable. How could they be if they don't get a fair measure of media attention? These three candidates may or may not represent a good option for the governor's office, but the point is, can you cast a good vote with the information you have been given?" says Jay Wiencko, CMNTV's executive director.
The lack of attention paid to third-party candidates has long been a pet peeve here at the Hits. How are they ever going to get any traction if the mainstream continues to ignore them? Without the ability to get their messages out, the mainstream's analysis that they aren't viable becomes a self-fulfilling prophecy.
Moderated by Charlie Langton, a Sterling Heights attorney and legal analyst for Fox 2 News, the candidates answered — to varying extents — questions from Metro Times staff writer Sandra Svoboda, Fox 2 Reporter Bill Gallagher and WWJ Newsradio 950's Tim Kiska.
The would-be governors agreed marijuana should be legalized for recreational use and that convicted felons should not be prevented from running for office (Proposal 2). The three also agreed that Michigan's sentencing laws for nonviolent offenders should be reviewed to reduce the prison population.
But beyond that, the three candidates had widely divergent views about the size and role of government and how to balance the budget. They also disagreed about the wisdom of establishing a part-time Legislature and whether the film industry tax credits should be maintained, among other topics.
Only Mathia supports term limits. She was the lone opposition among the three to legalizing gay marriage. Only Mikkelson opposes a part-time Legislature; he's also the only one of the three to support a constitutional convention. Mikkelson and Proctor support a moratorium on home foreclosures. Proctor and Mathia would abolish the film tax credits.
Mathia and Proctor insist government should be pared back even further than it has been, starting with the elimination of the Michigan Economic Development Corp. and scaling back if not eliminating state departments, specifically the Department of Natural Resources and Environment. Mathia said the only functions of government should be "defense and infrastructure" with Proctor adding "education" to that.
"I am fed up with the past eight years of failed socialist programs," Mathia said. "Taxes are driving Michigan businesses and families right out of Michigan. It's got to stop. We've got to drastically reduce the size of government, get back to our constitution. ... And I believe in your right to bear arms."
Reflecting the Libertarian Party line, Proctor said government should back away from some of its current functions.
"We're watching the Democrats and Republicans fighting to gain and maintain control ... over your life, your money and your family," he said. "Libertarians are for a very constitutionally limited government, reduced taxes and the freedom to live your life as you see fit."
Mikkelson reflected his party's strong environmental and social justice stances in defining what elected officials should do in office, believing the governor has the power to help solve problems as well as create them.
"I really believe that government needs to play an active role in improving economic conditions in Michigan. Something we really need to improve on is our educational system and we need to improve our state services. I don't believe we're going to improve the economy of Michigan by cutting state government," he said.
The debate can be viewed on the station's website (cmntv.org), where there also is a schedule for programs on its Comcast and WOW channel 18 in 11 Oakland County communities.