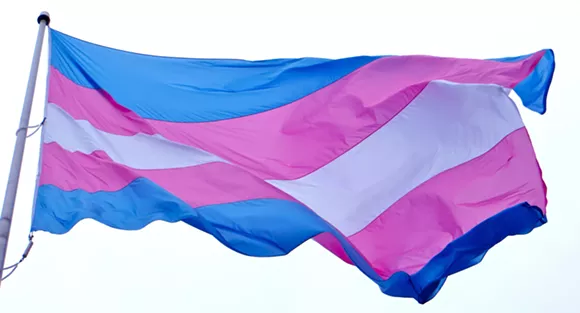 At least eight communities across Michigan are flying the transgender pride flag on March 31 for the International Transgender Day of Visibility.
Participating communities include Ypsilanti, Lansing, East Lansing, Kalamazoo, and Ferndale, Ingham and Washtenaw counties, and the Ypsilanti Community School District.
The effort was coordinated by Equality Michigan. According to the group, Ypsilanti Mayor Amanda Edmonds was the first to respond,
introducing a resolution to fly the flag
on March 21 that passed unanimously.
"We are fortunate to have local elected officials in Michigan who are willing to stand up against discrimination and send a strong message that transgender residents and students are welcomed and valued," Equality Michigan Executive Director Stephanie White says in a statement. "Transgender Michiganders continue to face high rates of harassment and violence in many aspects of daily life. To change that, we need to build awareness and address gaps in legal protections such as the fact that Michigan state law does not prohibit discrimination based on gender identity. Flying the transgender pride flag can be one step in that conversation."
A flag raising ceremony will be held at 8 a.m. at the Ypsilanti Police Department, 505 W Michigan Ave, Ypsilanti and at 8:30 a.m. at the Ypsilanti Community School District Administration Building, 1885 Packard Road, Ypsilanti. The public is invited.
Fun fact: Transgender Visibility Day was conceived of by Rachel Crandall-Crocker, the founder of Transgender Michigan.