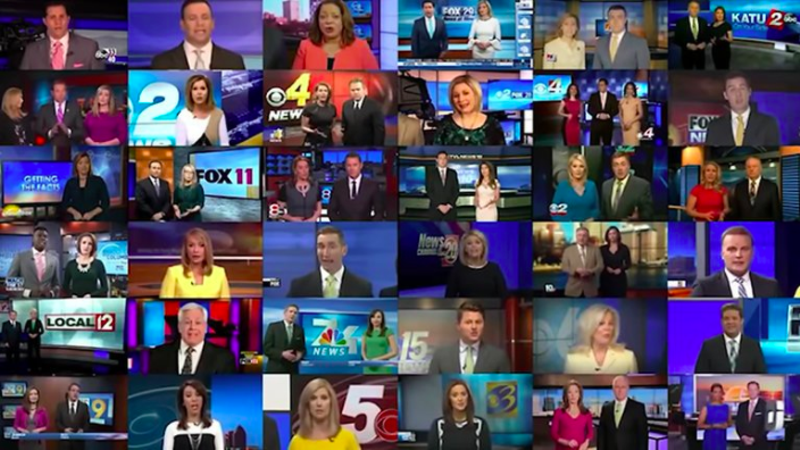 A new
anti-media promo with Trumpian undertones
is being run on local TV news stations around the country, including some right here in Michigan.
Video of dozens of TV news personalities parroting the same script went viral over the weekend, drawing sharp criticism of the stations' right-leaning parent company, Sinclair Broadcast Group.
"The sharing of biased and false news has become all too common on social media," the anchors say in eerie unison in the video,
edited by Deadspin
. "This is extremely dangerous to our democracy."
How America's largest local TV owner turned its news anchors into soldiers in Trump's war on the media: https://t.co/iLVtKRQycL pic.twitter.com/dMdSGellH3

— Deadspin (@Deadspin) March 31, 2018
Sinclair is one of the largest owners of local TV stations in the country, and is known for wielding considerable editorial influence over its affiliates,
regularly handing down "must-run" segments
with conservative political spin. Sinclair has had local affiliates
run comment packages
referring to young people as "snowflakes," calling political correctness and multiculturalism a "nasty cancer epidemic," and claiming that marriage is proven to reduce domestic violence.
But Sinclair isn't as easy to identify as a source of right-wing propaganda as Fox News, for example. Though the company owns more than
190 stations
, it keeps them individually branded, and local TV news is generally considered to be unbiased. Sinclair is, in the words of former FCC commissioner Michael Copps,
"the most dangerous company most American's haven't heard of."
There are currently seven Sinclair stations operating in Michigan, according to
the company's website
. An additional station located in Indiana covers a portion of Western Michigan.
The stations are:
WTOM
in Cheboygan
WGTQ
in Sault Sainte Marie
WPBN
in Traverse City
WGTU
in Traverse City
WBSF
in Bay City
WEYI
, NBC25, in Saginaw
WSMH
, Fox66, in Flint
WWMT
, Newschannel 3, in Kalamazoo
WSBT
, in South Bend, Indiana
WXMI
, FOX17, in Grand Rapids, could soon also join that list. The Tribune Media-owned station is one that Sinclair would pick up if its $4 billion proposal to buy that company's TV stations receives federal approval. Under the deal, Sinclair would come to own more than 200 stations, enabling it to pipe its propaganda into an estimated 2.2 million households.
Stay on top of Detroit news and views. Sign up for our weekly issue newsletter delivered each Wednesday.