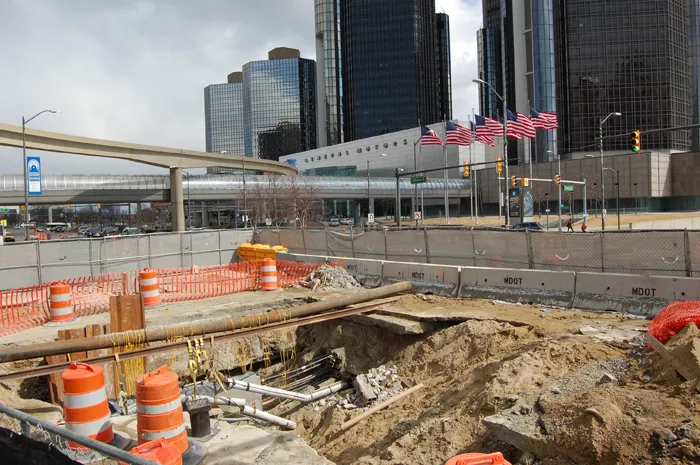 At the rate Detroit's historic bankruptcy is moving, the city may clean its books before a gaping 20-foot sinkhole downtown is repaired.
The effort to fix the sinkhole outside the Coleman A. Young Municipal Center has moved at a snail's pace, Diane Cross, spokeswoman for the Michigan Department of Transportation, tells us.
The reason she says is various utility crews continue to work layer by layer to repair exposed utilities, including Detroit's water and lighting departments.
"Unfortunately, the water main break that collapsed the ground, and the gas, electric, lighting, phone lines were all affected and, for safety's sake, it's been a slow rebuilding," Cross says in an email.
The cavernous hole, reportedly a nuisance for thousands of Detroit International Auto Show guests who had to avoid falling in after leaving the Ren Cen, appeared at the corner of Jefferson and Randolph in January. Unfortunately, things don't appear to be changing anytime soon: Cross estimates the sinkhole won't be repaired for at least another month.