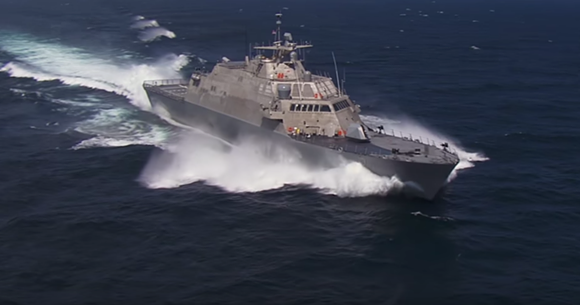 Meet the USS Detroit.
The littoral combat ship will be delivered to the U.S. Navy after completing the necessary acceptance trials on July 15, according to Lockheed Martin, the builders of the ship.
"
The ship's name recognizes the city of Detroit, Michigan, and honors the state's deep ties to the U.S. Navy and the shipbuilding industry," according to a press release from the Navy after the ship's christening.
"During trials, the ship successfully performed launch and recovery operations of the 11-meter rigid-hull inflatable boat, conducted surface and air self-defense detect-to-engage exercises, and demonstrated the ship's maneuverability,"
according to a video
published after the boat's completion of the trials.
The USS Detroit can travel at speeds of more than 40 knots, making it the Navy's fastest surface combatant. The ship is optimized for near-shore operations, but is also equipped for open ocean tasking
The ship is designed to "deter and defeat current and future threats," according to Lockheed Martin.
Here's a complete look at the ship, which is expected to be commissioned and officially join the Navy's fleet on October 22.