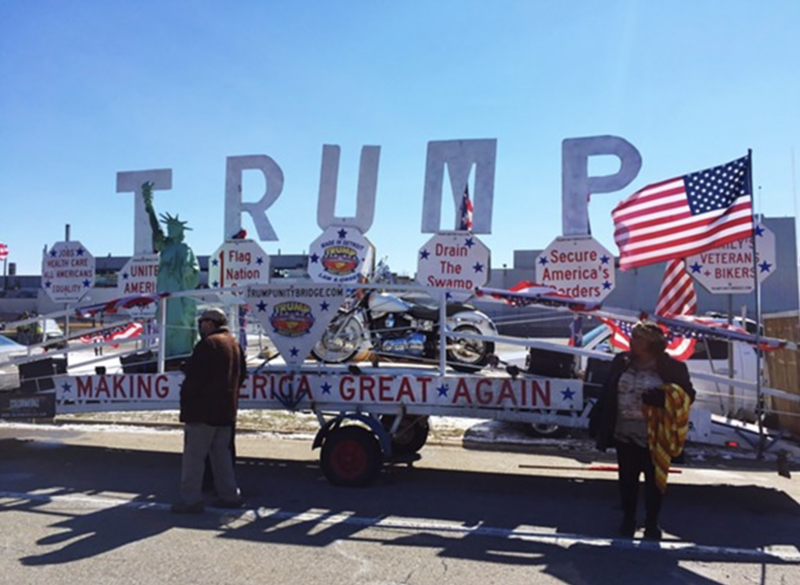 The Livonia man who's driven a
pro-Trump parade float-type thing
tens of thousands of miles across the country in a show of support for the president has set his sights on the 16-mile Woodward Dream Cruise strip, and police are on the lookout.
Vehicle
weight limits
set this year in an effort to optimize viewing of the cruise and ease traffic congestion will likely render Rob Cortis ineligible to drive what he calls the "Trump Unity Bridge" down Woodward, but he says he'll try anyway. And a Facebook event shows at least
a dozen other Trump supporters are hoping to join
him.
But with tensions running high across the country amid the fallout from the events last weekend in Charlottesville, Virginia, local police say they'll be vigilant.
"Now that we know about this guy and we've thought about this a little bit, we probably will keep an eye on him just to make sure there aren't issues that arise out of it," said Ferndale police spokesman Baron Brown. "This is a family-fun event and we don't want anything bad to happen because of what's going on in the country."

Brown notes that with trailers and vehicles weighing over 10,000 pounds barred from participating in this year's cruise, Cortis' bridge probably won't make it far enough to cause problems anyway. To get on Woodward, he would likely have to remove the bridge from the Trump-sign-covered Winnebago that tugs it, but even then it could still weigh too much, especially if he plans to bring other people aboard. For reference, a regular sedan weighs about 3,000 pounds.

"It's gonna be close," said Brown. "We're gonna do a little research on the weight of that vehicle make and model ... [but] that's the only thing that we can focus on."

"We are bound by the U.S. constitution," he added, referencing the free-speech issues that could arise from keeping Cortis off the Dream Cruise strip simply due to his message.

Cortis, for his part, remains hopeful his bridge and Winnebago will meet the requirements to make it onto Woodward Saturday.

"I pray it does," he said. "I've driven down Woodward, I've driven through Royal Oak, through Ferndale, Detroit, Mexicantown. I'm registered with the state of Michigan, I'm plated with the state of Michigan, I met all the requirements to drive all up and down the road.

"I'll do the best I can, so whatever I'm allowed to do, I'll follow the rules. If I'm not allowed to do something, I'll just promote somewhere else."

There are no rules that would bar Cortis from driving along the almost equally-crowded thoroughfares that intersect Woodward.

Skyler Murry contributed to this report.