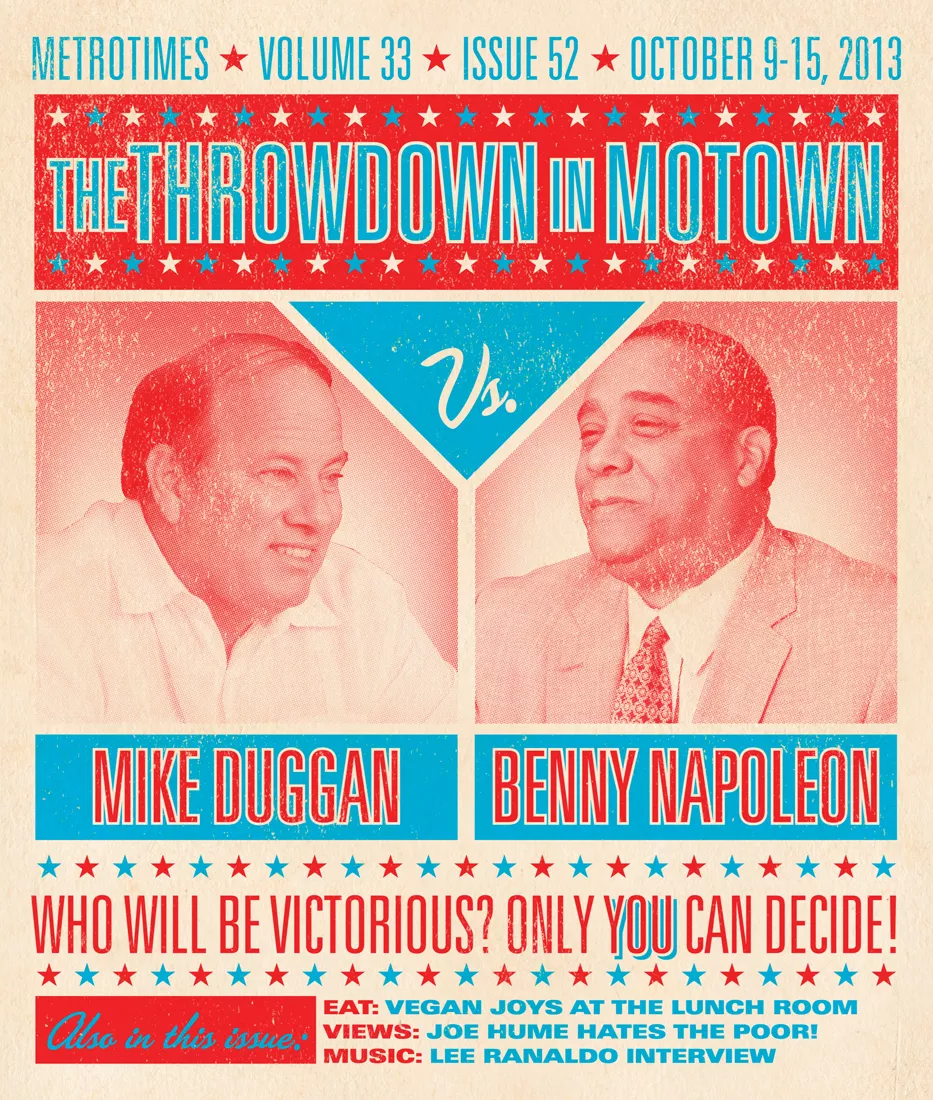 Metro Times Candidate Interviews |
Benny Napoleon and Mike Duggan
In this Corner: Benny "Hands Where I Can See 'Em" Napoleon ... Facing some long odds, BENNY sits down with MT in a follow-up to his pre-primary interview.
Benny Napoleon has an easy smile and a relaxed demeanor, both of which belie his reputation as the no-nonsense cop who oversaw a dramatic halving of Detroit's crime rate during his tenure as chief of police during the late '90s and turn of the century. While cops can be intimidating, Napoleon seemingly has a genuine affection for people and a politician's gift for glad-handing. As one of the two candidates who won the August 2013 primary for mayor, the man who currently occupies the top cop's slot in Wayne County has garnered endorsements from nearly every current politician associated with Detroit, as well as the majority of the black churches and the city's labor unions. However, as the primary results indicated — in stark detail — voters aren't yet convinced that a cop from the '90s has the vision to reshape Detroit in 2014. Down by nearly 25 points in various public opinion polls of likely voters, Napoleon has substantial ground to cover if he expects — as he says he does — to beat challenger Mike Duggan at the polls next month.
Unlike Duggan, Napoleon tends to veer off script when speaking extemporaneously. He has flashed his well-documented temper in interviews, including his last one with Metro Times in August, when news editor Curt Guyette asked a self-reflective question about personal failings. Napoleon's ability to sell his message to an electorate desperate for something different than what they have bought from previous politicians may not be his fault — perhaps it's the message itself, rather than the messenger, which is failing to resonate.
In this Corner: Mike "The White Guy" Duggan ... The unlikely contender answers some follow-ups in a second MT interview.
If his ascension to pole position weren't happening in real time, the political arc of Mike Duggan, former Wayne County prosecutor and CEO of the Detroit Medical Center, would be the stuff of screenplay lore. Moving to Detroit in a seemingly quixotic bid for mayor. Filing the requisite paperwork two weeks early, then ultimately being disqualified from placement on the primary ballot because he hadn't achieved a full year's residency in the city. Launching an improbable write-in campaign. Lawsuits, oh-so-many lawsuits. Yet, here he is, the media's beloved underdog candidate, who crushed the man many presumed would be the successor to Mayor Dave Bing — Wayne County Sheriff Benny Napoleon — in an overwhelming landslide. In fact, according to analysis conducted by our friends at the Detroit Free Press, outside of Napoleon's own district and a 30-block stretch around it on the city's near west side, Duggan took every single other district in Detroit. Pretty fly, for a white guy.
With less than a month left before voters go to the polls, the outcome is far from secure for Livonia's native son (yes, we know he was born in Detroit). With poll numbers showing a nearly double-digit lead over Napoleon, and a chorus of business leaders pouring money into Duggan's campaign coffers — some of which he was forced to return after it was shown the money came from a casino owner, which is against state election law — the boxing match we expected has yet to get under way in earnest. However, after sitting down with Duggan's opponent, we suspect the two-stepping will turn to fisticuffs in short order.