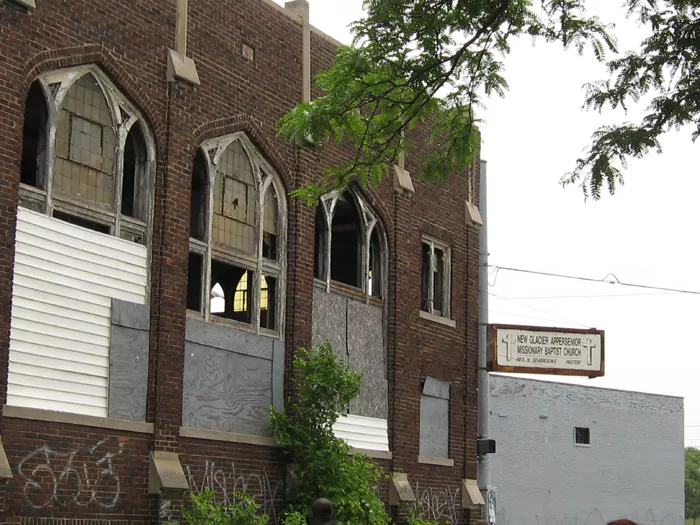 Looking for a house of worship? The New Glacier Appersenior Missionary Baptist Church would be an option — if it hadn't already succumbed to urban decay.
ASS (that's the Abandoned Structure Squad … amen!) was on its way back to headquarters when it ran across the church at 7203 Harper Ave. on Detroit's east side. The building is a gray brick structure that appears to have once been accented by stained-glass windows. The windows were, at one point, broken out and have since been covered by huge sheets of plywood. It was a simple building but nonetheless caught the eyes of the ASS sleuths.
The church sits on quite a bit of land, which would be perfect for Sunday school activities. A total of 19 crimes were reported within a mile of the church since the start of June, but during the assessment, the neighborhood seemed quiet.
At first glance, entrance into the church seemed impossible, as the side stairwell has collapsed, but gaining access was rather easy. The front door has completely disappeared and the front stairwell is in surprisingly good condition, considering the other stairwells have completely collapsed.
Once inside, ASS was greeted with some ominous messages from what appeared to be the same tagger: "We've lost our only guide," "Now we're counting seconds," "Pray for us."
Stepping into the sanctuary, however, is like stepping into Narnia. The floor has taken on a mud-like quality, plants have begun to overtake the interior, and moss now grows on many of the destroyed pews that were left behind. A large hole in the ceiling is a skylight to the heavens, and also a lovely perch for some of the neighborhood birds.
The floor in front of the altar has given way, and a huge hole to hell has been formed; because of this hole, the floor that led to the back of the church had become unstable and ASS was unable to fully assess it. Nor could we get into the choir loft, as those stairs had also become unsafe. We did, however, find the church's old organ, still in one piece.
Upon further research, ASS hit a brick wall on this history of the New Glacier Appersenior Baptist church, but did find that it was formed in 1992 by Valerie Seabrooks and was headed by the Rev. H. Seabrooks. It was "dissolved by administrative action."
The owner and tax information for 7203 Harper Avenue remain unknown.