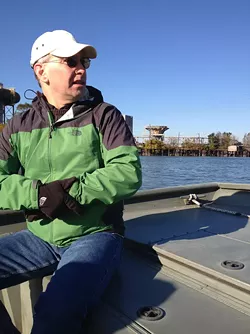 Always eager to escape from the office whenever possible, News Hits jumped at an invitation from the Sierra Club's Brad van Guilder to join him and a few others for a sightseeing tour last week of the area around the River Rouge Power Plant.
Although there was plenty of sunshine, low temps and a stiff wind whipping across the water made the excursion something less than the pleasure cruise we had hoped for. It brought tears to our eyes and a chill that lasted most of the day, in fact. But we're still glad we went.
Among other things we were struck by the contrast of seeing great blue herons and cormorants gracefully winging their way over the water, with massive mounds of black coal serving as a backdrop.
For most of us, where our electricity comes from and how it's generated is generally an out-of-sight, out-of-mind kind of thing. But not everyone is afforded that luxury.
Van Guilder was looking to draw attention to a photography project called the "Cost of Coal," an 18-page spread in the November/December issue of Sierra magazine. The photo essay, produced by photojournalist Ami Vitale, looks at communities in West Virginia, Nevada and Michigan, documenting firsthand the "devastating consequences" coal has on the lives of people.
"The photo essay prominently features residents of the River Rouge community, whose families, homes and health have been impacted by DTE Energy's River Rouge coal-burning power plant and many other industrial polluters," a release from the Sierra Club declared.
As luck would have it, the boat ride fit in nicely with a story we wanted to do about Proposal 3, which, if approved by a majority of voters on Nov. 6, would add to the Michigan Constitution a mandate that 25 percent of the state's electricity be derived from renewable resources by the year 2025.
If you've been anywhere around a TV recently, you no doubt have seen the commercials trying to convince everyone that this is an extremely bad idea. Paid for by the ironically named Clean Affordable Renewable Energy for Michigan Coalition, the ads are a polished attempt to drive home the message that passage of the measure would result in a sort of economic Armageddon for the state.
Although it uses the words clean and renewable in its name, it's hard to see how CARE actually cares much about either. In fact, CARE is really a utility industry front group, backed primarily by DTE Energy and Consumers Energy. Documents filed with the state indicate that CARE has raised $5,922,165 to defeat the proposal. Of that, $5.8 million came from the state's two dominant utilities, with each kicking in $2.9 million.
So, here's one question: Are these companies looking out for your best interests, or theirs.
Here's another point to consider, especially for those of you living in southeast Michigan and getting your electricity from DTE: The power company isn't just in the electricity-generating business. Through its subsidiaries, it is also heavily vested in the coal industry.
You don't have to take our word for that. DTE boasts on its website just how into coal the company is:
"DTE Energy is among the nation's top three North American coal marketers and transporters. We specialize in efficient management of coal supply and transportation, moving nearly 40 million tons of coal across the country, in addition to the 21 million tons used by Detroit Edison."
Further reading revealed that one of its many subsidiaries, DTE Coal Services, "is one of the largest marketers and transporters of coal to third-party customers in North America. They provide a broad range of coal sourcing, marketing, risk management, transportation, rail management and trading services nationally to coal producers, electric utilities, steel companies and other industries. DTE Coal Services is also active in trading coal, emissions and carbon in the financial and physical markets."
And then there's Midwest Energy Resources Co., which operates an "innovative rail-vessel trans-shipment system that handles much of the Great Lakes market for low-sulfur western coal."
Also under the DTE umbrella is what's known as a "reduced emission fuels" operation that treats coal so that it produces less pollution when burned. According to the company's own estimates, that operation will generate $30 million in earnings this year and about $50 million a year beginning in 2013.
What's important to know about all this is that, although the part of DTE that actually sells electricity to customers is regulated by the state's Public Service Commission, which limits the profits a public utility can earn, the subsidiaries aren't similarly constrained.
William A. Peloquin, a CPA and former staffer in the Michigan attorney general's office with 30 years of experience dealing with regulatory matters, noted in a March 2011 filing with the MPSC how such a system can work to the detriment of ratepayers.
As he explained it, the network of subsidiaries provides a "framework and incentive" for potential transactions "aimed at enhancing holding company consolidated profits at the expense of the regulated utilities ..."
All of which might explain why DTE is trying to scare Michigan residents into believing that they're going to be hit with a $12 billion bill if Prop. 3 passes.
A cynic might say that DTE is looking to protect its economic interests, not yours.
Or you could instead consider the viewpoint of the green-minded folks at the Michigan Environmental Council and other supporters of the 25 by 25 measure. They point to a just-released report by energy experts Martin R. Cohen and George E. Sansoucy, who concluded that, if Prop. 3 passes, it would "cost an average of 50 cents per month for residential ratepayers between 2015 and 2025."
Even if you question that analysis, there is the fact that the proposal itself limits any potential increases related to alternative energy to just 1 percent per year.
In 2008, the Michigan Legislature passed a law requiring the state's utilities to obtain 10 percent of their electricity from renewable sources by the year 2015. As far as we can tell, everyone thinks we are on track to meet that goal.
As a result of that law, we are one of 29 states that have established so-called "renewable portfolio standards." According to the nonprofit, nonpartisan Citizens Research Council based in Detroit, Michigan's standards are among the "least aggressive" of any implemented.
Passage of Prop. 3 would help move us toward the front of the pack.
Part of the economic reason for doing so, argue environmentalists and others who support the measure, is that renewable sources such as wind — which has the most potential in terms of clean energy for Michigan — cost less once they are paid for.
Compare that to aging facilities like the River Rouge plant that only become more of a burden as time goes on. They are expensive to maintain, and expensive to update to comply with ever more stringent regulations.
And they come with other costs that are difficult to quantify.
Costs in terms of heart attacks, asthma attacks and premature deaths that are caused by the poison that spews from smokestacks. Costs in terms of drought and crop failures that are already being experienced as the effects of global warming begin to show themselves.
And costs in terms of quality of life, and how it is degraded for those who live near massive facilities such as the River Rouge plant.
Alisha Winters, a River Rouge activist and mother featured in the photo essay noted, "If you circle around this community, you'll see a lot of people on oxygen, or with cancer. All of us are affected by the coal and by the fumes."
So, you can believe people like her when they say Prop. 3 is a good thing, and should be passed.
Or you can believe DTE and vote no.
A lot of money is being spent to convince you to do just that.
But as far as we can tell, they are mostly just blowing smoke.