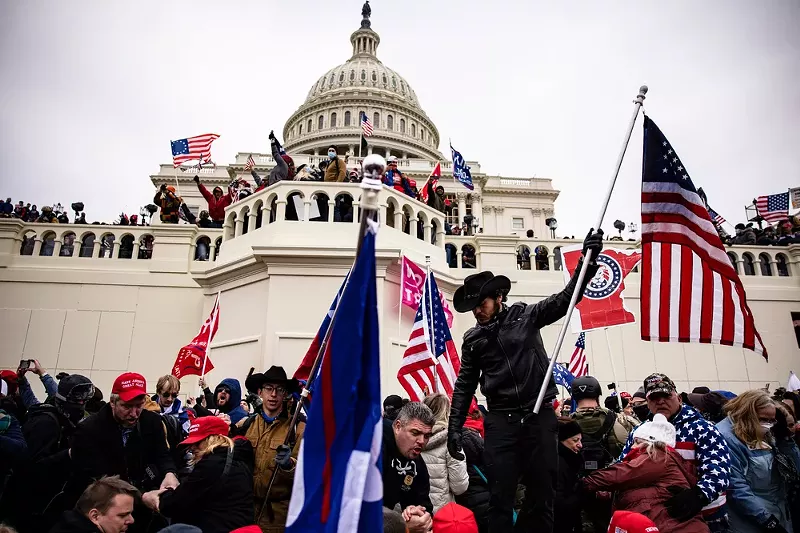 The extraordinary images of supporters of President Donald Trump storming the U.S. Capitol on Wednesday were shocking but not surprising, at least to us here in Michigan.
It was basically a worse version of what happened in Lansing last year, when protesters gathered against Gov. Gretchen Whitmer's pandemic orders at various points throughout the spring.
Both were centered around perceived tyranny — Whitmer's pandemic orders in Michigan, and Trump's baseless allegations of election fraud in Washington, D.C.
And both were incited or encouraged by Trump.
In April, Trump tweeted
"LIBERATE MICHIGAN!"
days after "Operation Gridlock," which was supposed to be a socially distant drive-thru protest. Despite the wishes of the protest organizers, some got out of their cars, posing with guns on the steps of the Capitol Building in Lansing.
It was a taste of things to come.
Among the protesters here today are several open carry advocates. pic.twitter.com/RhxTf8JqLk

— Beth LeBlanc (@DNBethLeBlanc) April 15, 2020
Later in the month, protesters returned to Lansing, but this time they pushed their way into the Capitol Building, posing for photos while holding guns.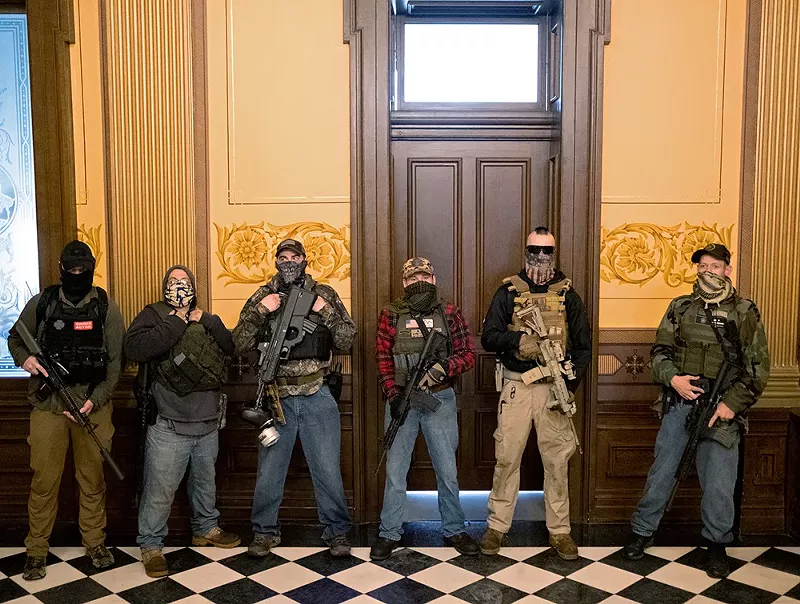 On Wednesday, the mob siege happened after Trump held a nearby "Save America" rally, just as Congress was meeting to certify the results of the election. Former 9/11-era New York mayor Rudy Giuliani told the crowd to settle the election with a
"trial by combat,"
while Trump
urged his supporters to march
on the Capitol building, saying, "We will never give up, we will never concede."
Like in Lansing, the protesters in D.C. pushed their way into the Capitol Building for surreal photo ops, flipping tables and rummaging through desks in House Speaker Nancy Pelosi's office, with one man even
posing while reclining with his feet on Pelosi's desk
.
Both the Lansing and the D.C. mobs were armed —
at least six weapons
were recovered at the nation's capital. The events from Wednesday are also sure to re-ignite debates over whether guns should be prohibited at Lansing's Capitol Building.
to make it here without dying is the epitome of white privilege pic.twitter.com/Uw5FV33bpO

— Noah Caine (@NoahCaine) January 6, 2021
Some who attended the April 30 rally in Lansing were
later revealed by the FBI to have been linked to an alleged plot
to kidnap and assassinate Whitmer. A photo from Wednesday showed one rioter with zip-ties, suggesting that they also planned on taking hostages.
Just to drill down on this. Trump Supporters who broke into Congress yesterday were packing zipties and fully planned on taking hostages pic.twitter.com/KitrKI9skX

— Theodocious Calhoun (@DailyGrumbles) January 7, 2021
Both the Lansing and D.C. mobs were organized by social media. In Michigan, investigators traced the people involved in the attempted plot to kidnap Whitmer to violent anti-government Facebook groups that promoted the rallies, which
Metro Times
has been
reporting on
since January 2020. As a result of
MT
's reporting, Facebook
removed some of the groups
.
The attempted coup in D.C.
was also linked to social media
, including Facebook, Twitter, and a new platform called Parler.
Both the Lansing and D.C. mobs saw people waving Confederate flags, poking holes in the protesters' claims that the rallies were only about pandemic orders or the election.
During the four years of the Civil War, the confederates never got closer to Washington than Fort Stevens. Until today, when insurrectionist supporters of @realDonaldTrump paraded through the U.S. Capitol Building carrying the Confederate battle flag. pic.twitter.com/mPye0ziVlj

— Jordan Fischer (@JordanOnRecord) January 6, 2021
The obvious parallels between what happened in Lansing months ago and what happened in D.C. raise serious questions about why the Capitol Police were so seemingly unprepared. A video from Wednesday showing the Capitol Police
opening a gate to allow the rioters to get closer to the building
suggests complicity, if not an outright inside job.
The contrasts between what happened in D.C. and what happened in Michigan are also illuminating. At the Republican National Convention, Trump spent little time talking about the coronavirus pandemic and much time talking about Black Lives Matter protesters and so-called Antifa protesters, claiming to be the "law and order" president and painting an image of a country besieged by angry leftist rioters. That Trump's own supporters
are
what he purported Black Lives Matter and Antifa to be is an ugly truth that will have to be reckoned with.
Plus, the fact that Detroit's police brutality protest group Detroit Will Breathe was teargassed for breaking curfews while the Trump supporters were handled with kid gloves after breaking a curfew ordered by D.C. Mayor Muriel Bowser is something that will also have to be reckoned with.
There's also a more physical link between the Lansing and D.C. mobs.
Busloads of Michiganders
organized by Michigan Republican activist Meshawn Maddock made the trek to D.C. for Trump's rally to "Save America." which were organized by Michigan Republican activist Meshawn Maddock. Alarmingly, Maddock is poised to become the
state co-chair of the Michigan Republican Party
.
This all goes to reinforce Michigan's role as a bellwether of national politics. This is proof: as Michigan goes, so goes the nation.
Stay on top of Detroit news and views. Sign up for our weekly issue newsletter delivered each Wednesday.