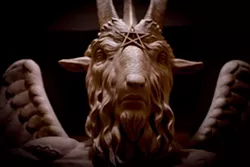 We've been covering the
Detroit chapter of the Satanic Temple since
it was first founded back in 2014, headed by local Jex Blackmore. The group of
non-theistic Satanists
has been stirring things up ever since.
They launched a
"discrimination transparency"
campaign,
commissioned a controversial statue of Baphomet
, and
protested Planned Parenthood
protests in spectacularly dramatic fashion.
Well, they're back at it again and plan to interrupt two anti-Planned Parenthood protests this morning with "radical political theatre" where they will "expose the anti-choice protest as an act of fetal idolatry, highlighting the fetishization and abstraction of the 'baby.'"
The group sent out a press release late last night where they detailed their stance against the anti-choice groups protesting at Planned Parenthood.
The highly politicized anti­-choice movement advocates for the abolition of Planned Parenthood, an organization that provides critical preventive and primary reproductive health care services to low ­income women. The current cornerstone of their argument stems from a fabricated, fictional story that clinics "sell baby parts for profit". Organizers of the April 23rd protest, entitled #ProtestPP, directly intended to irresponsibly perpetuate this contrived story in an attempt to leverage misunderstanding for political gain and impose the moral opinions of some upon a diverse community.
The anti-protest protests take place today at Planned Parenthood in Ferndale at 9:15 a.m. and at Planned Parenthood in Detroit at 10:15 a.m.