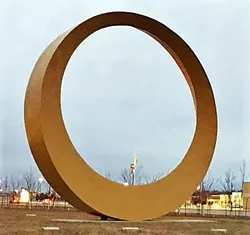 Well, it was fun while it lasted.

The city of Sterling Heights has revealed its favorite five names pegged to define what has been dubbed The Golden Butthole by the internet (or the Golden Icon by those without a sick sense of humor.)

Since launching the naming contest last week, the city claims that more than 6,000 individual submissions were received, meaning more than 18,000 suggested names were in the running. And we hate to tell you, but the Golden Butthole did not make the cut.

The names, which can be voted on until midnight on Thursday, March 28 via the city's Facebook, are as follows: The Aurum (which is the Latin word for gold), The Halo (as in the circle of light around the sun and moon), The Overture (ugh, seriously?), The Sun Gate (the name given to the entrance to the ancient city of Machu Picchu which, if selected, would be a real slap in the b-hole to Machu Picchu), and, lastly, the Standing "O" (which serves some serious Juicy J "Bandz a Make Her Dance" vibes.)

According to the city's community relations director, Bridget Kozlowski, the Golden Butthole was never in contention.

"Only appropriate names will be finalists," Kozlowski told Freep before the selected names were announced.

The city also wanted to highlight some "funny" submissions that didn't make the cut but thought were worth sharing: The Golden Cheerio, Ring McRingface, 2008 Detroit Lions Wins Memorial, Sonic's Manifesto, and O Hall Yeah.

Before the wind was blown out of our collective sails, some perverse genius launched a merchandise line and a parody video. After all, it was only a matter of time until someone capitalized on the widespread popularity of Sterling Heights' beloved Golden Butthole.

A Pure Michigan-inspired spoof posted to Reddit over the weekend hails the city's $300,000 tax-payer funded art piece as "a beacon of hope that shines where the sun does not" and announces that the Golden Butthole will be transformed into a 70 mph, six cart rollercoaster for this year's art and music festival, Sterlingfest.

"This summer, this golden testament to art and the human spirit is about to become the most thrilling roller coaster ride ever."

Attached to the video is a website, goldenbuttholeride.org which redirects visitors to a shop that offers everything from Golden Butthole tees, tanks, hoodies, leggings, coffee mugs, and bumper stickers.

Watch the parody below. Ride on, Butthole. Ride on.

Stay on top of Detroit news and views. Sign up for our weekly issue
newsletter
delivered each Wednesday.