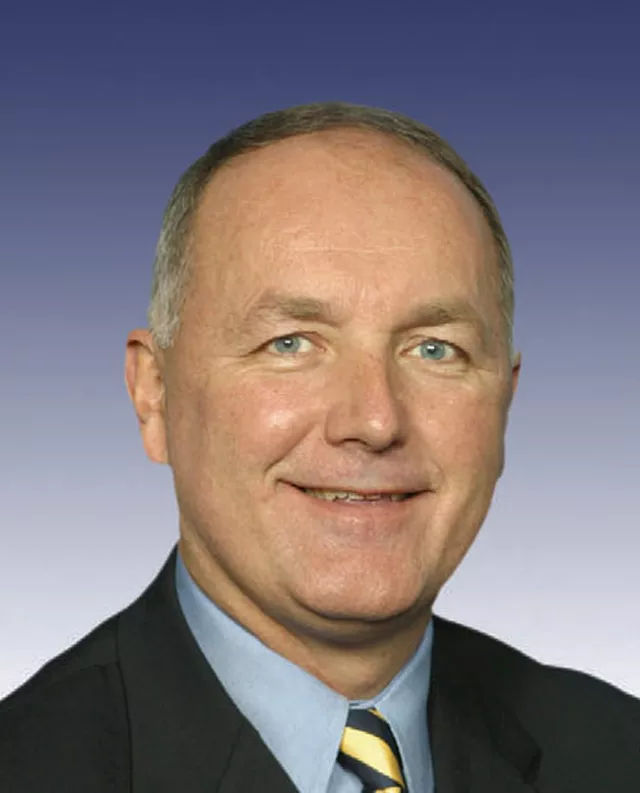 You may not have realized this, but there is actually an election for the U.S. Senate in Michigan this year.
Well, sort of an election. But really not much of one. The GOP candidate either seems to be sleepwalking, or to have decided that he really doesn't want to be a senator after all.
This is the race between U.S. Sen. Debbie Stabenow, a Democrat trying to win a third six-year term, and Republican Pete Hoekstra, a former congressman from the west side of the state who used to chair the House Intelligence Committee.
If you've forgotten this was going on, that's understandable. Hoekstra was last seen campaigning in Israel.
Why? Well, when he came back, he told one reporter he felt that getting the latest information on what was happening in the Middle East was more important than campaigning in Michigan. You never know. He could be on to something.
It just might be that hundreds of thousands of unemployed Michiganders are most intensely interested in the next Knesset elections, or how the mess in Syria turns out.
But I kind of doubt it. Meanwhile, Stabenow, who is now chair of the Senate Agriculture Committee, locked up the endorsement of the usually Republican Michigan Farm Bureau.
One recent poll showed her up by 53 percent to 37 percent, about the same margin by which she beat the hapless Oakland County Sheriff "Six Gun" Mike Bouchard last time.
When he came back from Israel, Hoekstra sat down with The Detroit News, his best bet for an endorsement. "I think I'm behind," he told them. "It's an uphill battle."
Can't say that guy isn't perceptive. Well, actually you can. This was supposed to be a competitive race. Hoekstra had won high marks as chair of the House Select Committee on Intelligence in the years after Sept. 11.
He finished a distant second in the GOP primary for governor to Rick Snyder last year, but did beat out Attorney General Mike Cox and the by-then shopworn Bouchard.
Yet, from the moment the Senate race began, Hoekstra seemed determined to put his foot in it. First, there was his racist-seeming Super Bowl ad, featuring a pretty Asian girl with an accent straight out of a 1930s Charlie Chan movie.
"Sank you, Debbie Spend-It-Now. You borrow so much money from us your economy get very weak. Ours get very good. We take your jobs," she said, grinning evilly.
Ironically, it turned out that Hoekstra spent about nine times as much to air the ad as it brought in, in terms of contributions, making him non-Senator Pete Spend-it-Now.
Quietly, Michigan soon disappeared from the national Republican Party's lists of seats they hoped to pick up. This summer, Hoekstra further made a fool of himself by running ads claiming Stabenow was the "worst senator ever."
Detroit Free Press columnist Brian Dickerson said, "mostly, I'm embarrassed for the guy." Hoekstra's agony will be over, mercifully, in less than a month. Unless there is a sudden surge of write-in votes from Israel, he is clearly toast.
The agony of the Michigan GOP, however, continues. His defeat will mean Republicans have lost 11 of the last 12 U.S. Senate elections in Michigan. The only exception in the last 40 years was in 1994, when Republicans won every open Senate race in the nation. Hoekstra won't starve; he could perhaps go back to his old job as a furniture executive at Herman Miller.
More likely, he becomes a lobbyist. For nearly four decades, Republicans have sneered at Debbie Stabenow, back to when she first ran for a seat on the Ingham County Commission in 1974. They pick on her non-flashy style and her weight.
Then she beats them, every time.
Bottom feeders: In past years, we've had some decent Republican secretaries of state. Candice Miller and Terri Lynn Land were competent and non-ideological enough that I found myself voting for both when they ran for re-election.
However, Ruth Johnson, — the third blond, middle-aged GOP SOS in a row — is something else. She's obsessed with the need to prevent non-citizens from voting, though there is little or no evidence that more than a handful ever have.
Earlier this year, the governor vetoed a law that would have required voters to check a box affirming that they are U.S. citizens when they vote. That didn't matter to Ruthie.
She decided to impose the requirement anyway in the August primary. This caused howls of protest and some principled voters, like the Michigan Campaign Finance Network's Rich Robinson, to be denied a ballot.
Things were confused further when she then issued new instructions, now saying voters didn't have to do that, in the middle of Election Day. Unlike my dog, however, Johnson seems incapable of learned behavior, and announced she was bringing the check box back for the November election.
Not so fast. Last week, U.S. District Judge Paul Borman told her to forget it. After first compelling Johnson to show up in court, Borman told her what she was doing wasn't legal.
"The bill was not enacted because the governor vetoed it," he said, explaining that her move created a lack of equal protection under the law. As for her order, "it's clear that a lot of clerks aren't following it because it wasn't legally enacted."
Afterward, Johnson told reporters the federal judge's ruling was "very disappointing." Yeah, that happens in a democracy, Ruthie. Tough break, kid.
(For more on this issue, see this week's MT cover story that begins on Page 14.
Proposal 4 revisited: Thomas Morgan, an account executive for a PR firm that has been paid to try to get the home health care amendment passed, took exception to my recommendation last week to vote against it.
My reasoning was that state constitutions are supposed to set broad outlines for government, not serve as a Christmas tree to be hung with goodies for various special interest groups.
Besides, I argued, this amendment won't be needed if Proposal 2 — which I do support — passes, since it would guarantee collective bargaining rights for all employees, public and private. Proposal 4 would require the state to establish a registry for caregivers called the Michigan Quality Home Care Council, and allow in-home care workers to bargain collectively.
Morgan acted outraged, and wrote to me saying: "Proposal 2 would not allow home care providers the opportunity to organize, as you mistakenly claimed."
Really? Here's what Proposal 2 actually says. It would "grant public and private employees the constitutional right to organize and bargain collectively through labor unions," and "invalidate existing or future state or local laws that limit the ability to join unions and bargain collectively."
Looks to me like that covers everybody, except maybe the chipmunks under my porch. But there are other reasons to vote against Proposal 4 that I didn't mention last week.
Primarily, it establishes another set of unfunded mandates, since it would require the state, via the Michigan Quality Home Care Council, to "provide training for in-home care workers, create a registry of workers who pass background checks and provide financial services to patients to manage the cost of in-home care." That last part would likely cost millions.
So where's the money coming from?
The amendment doesn't say a thing about that, which is fundamentally dishonest. That's not to say we as a state shouldn't pay to provide in-home health care, or see that those providing it should be decently paid. But that should be a matter for legislation rather than the constitution, and citizens shouldn't be tricked into assuming one more vast expense.