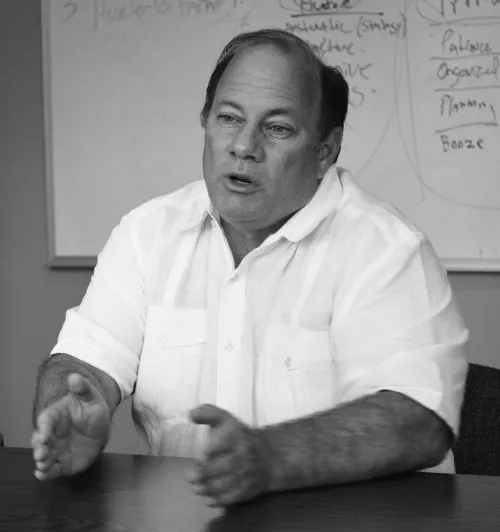 No stranger to politics, Mike Duggan spent 16 years holding both appointed and elected offices in Wayne County, including deputy County Executive and Wayne County Prosecutor. In 2004 Duggan became president and CEO of the Detroit Medical Center. He resigned his position in 2012 to run for mayor. A technicality kept him off the primary ballot; he has since become a write-in candidate. Duggan holds undergraduate and law degrees from the University of Michigan
Metro Times: Why do you want to be mayor?
Mike Duggan: I was born in Detroit, lived here as a young boy, went to high school here and worked in the city every day for the last 32 years. I've watched the city I love continue to slide in the wrong direction. I just felt like what the city needed was somebody that had done turnarounds before and understood what it was like to deal with a large organization that was on the verge of bankruptcy; understood how you rally employees and establish a strategy — and get [an organization] back to where we're in the black and delivering services. I started this campaign about a year and a half ago and said to the voters in this community, "I love this city, I love the people here, and I think I can help." If you agree and you vote for me, I'll work as hard as I can.
MT:There has certainly been no shortage of roadblocks put in your way.
Duggan:It's hard enough to convince the small percentage of the electorate that bothers to come out for a primary to give you their vote, and now you're asking them to not only come out but also write you in.
MT:What types of unique challenges does that present?
Duggan:The challenges are huge, but the people in this town have lived through being knocked down and having bad breaks … obstacles that seem insurmountable in their lives every day far more serious than mine trying to educate people on write-ins. And so I think I'll be judged on the way that I deal with the setback, but there's no question the odds are against me. There is nothing on the ballot that explains how to write in [a candidate]. The ballot itself is actually very simple to write in on, if there were any instructions, but there's not — so we have to educate every single voter before they walk in to the polls that you need to go to the bottom of the listed candidate, find the empty box, print Mike Duggan and fill in the circle.
And so I have to do two things: Continue to tell voters who I am and what my plans are for bringing the city back; and spend an equal amount of time educating them on something that they're very unfamiliar with because we have not had a large-scale write-in candidate in this community before … it's a challenge, but we're dealing with it.
MT:Are there other write-in candidates who won their office that you might be modeling your candidacy on?
Duggan:We're not necessarily modeling on anybody, but Tony Williams, when he was the mayor of [Washington] D.C. in the early 2000s, hired a company to get his petition signatures handed in. [There were] … fraudulent signatures and he got knocked off the ballot. He ran a write-in and was successfully re-elected. Of course everyone remembers [Sen.] Lisa Murkowski [R-Alaska] when she got beat by a Tea Party candidate in the primary and won a general election as a write-in. We've talked to people from both campaigns and gotten their insight. But we're doing what we do, which is we're knocking on doors, calling people on the phone, continuing to have house parties and visit senior centers, visit churches — and just over and over show people, here's the ballot. If you want to write in "Mike Duggan" you go down to the empty box, print in Mike Duggan and fill in the circle. And we'll see whether it works.
MT:When you're pressing the flesh and kissing babies, how have you been received given that you are both a write-in candidate and the only top-tier white candidate in a primarily African-American city?
Duggan: Being a white candidate hasn't been an issue. I've done 170 house parties now — so over the last year I've been in 170 peoples' living rooms and basements, church halls, barbershops and beauty salons. When you sit down with people in their homes and just talk, race goes away and you see each other as people. I have been embraced in every corner of the city. I haven't had a single bad incident. Now, the write-in part, everybody has an opinion on the write-in. Everybody in town knows that I got knocked off the ballot because I filed my petitions two weeks too early, and now I'm having to do a write-in campaign — everybody wants to talk about it, and so it's had an enormous effect on my name ID, I think. Every place I go, everybody feels like they can come up and talk to me about it. And people are good; a lot of people said, "I haven't made up my mind yet but I'm glad you're on there as a choice." And I get a fair amount of that. I walked out of my headquarters yesterday on Jefferson and some lady waiting for the bus, ran up and hugged me and said, "I'm so glad you're back on the ballot!" I said, "Well, actually I'm not on the ballot, but I appreciate the sentiment."
MT:This primary and the subsequent election may be one of the most critical in Detroit's 300-plus-year history. What's your take on the implications of this election?
Duggan: The elections of Hazen Pingree and Coleman Young were pretty monumental in this city, and I don't know if I'd put this one in those categories, but we're at a point where we can go one of two directions. An emergency manager has never succeeded in this state. We watched Highland Park cycle through emergency manager after emergency manager; we've seen Hamtramck cycle through them; we've seen Ecorse cycle through them, and I continue to criticize the emergency manager [statute] because there's no objective evidence that they work. The solution is to put an administration in place that brings in a cabinet and a team that lays out the city's future in the right direction; so it is important to put this emergency manager thing behind us once and for all. [Detroit] can't cycle through this again and again. Businesses won't want to locate here, people won't want to live here. So the next mayor has to close the chapter of the emergency manager as quickly as possible and then run this city so financially competently that the governor is never tempted to come in here and do this again. If you believe in self-determination as I do, then electing a mayor that can return this city to self-determination is a high priority. I don't know if it's quite a historical context as you have it, but it's going to be important.
MT:It's historical in that you are running for elected office in the shadow of the largest municipal bankruptcy in American history, and whoever becomes the next mayor of Detroit will take office with the emergency manager still in place. What would your relationship be with the emergency manager?
Duggan: It'll be professional — for as short a period of time as I can afford to make it. But you understand that, from my perspective, I came out of the Detroit Medical Center. Harper Hospital was opened in 1863. Children's Hospital and Hutzel Hospital were opened in the 1880s … institutions with a nearly 150-year history. When I came in, in 2004, they were on the verge of closing. The board had voted to close Receiving [Hospital], voted to close Hutzel, was about to close Sinai Grace, and the rest of DMC would've soon followed. The historical weight of that situation never left my mind. And, of course, the 11,000 employees — their paychecks were at stake — and for the 300,000 people [DMC] saw a year in the emergency room, it truly was a life-and-death situation. But when you have that much at stake, you can rally people to your side with a good plan — and that's what we did. We didn't go whining about how unfair the world was. We started to deal with the stuff we could deal with, at the cost we could control. We cut the wait times in the emergency rooms from three hours to 29 minutes. Patients started to come back. Then I went to the business community and got people like Roger Penske and Cindy Pasky [of Strategic Staffing Solutions] to join the board, who had some clout and helped us get us some philanthropic support; and ultimately make a deal. And so it's a situation that I'm comfortable with — and the city certainly has a very rich history — and it's in a very down position, but it's something I've done before. I don't need to learn how to do a turnaround out of a book. And ultimately, that's what separates me from the other candidates in the race. They're all good people who have been accomplished in their careers, but not one of them has ever turned around anything financially in their lives. And you'd hate to have your first try be the city of Detroit when it's … bankrupt. That's probably the reason why I've gained as much support among residents as I have.
MT: Private business or quasi-private business is a different beast than politics, and now you'd be working with the Detroit City Council, which has notoriously been independent of the mayor's office. How do you see your relationship to the council and pushing your agenda?
Duggan: You know, I spent 14 years as deputy county executive, three years as prosecutor, dealing with the Wayne County Commission, who are no more or less difficult than the Detroit City Council. When we came into Wayne County, we were on the verge of payless paydays and we got the budget balanced 14 years in a row. We got the commissioners to support that as a core principle because they understood that if your budget wasn't balanced, you couldn't have any other initiative — you couldn't build baseball stadiums, you couldn't improve parks, you couldn't do anything if you didn't start by balancing your budget. When DMC announced the sale of the hospitals to Vanguard, that transaction required the approval of the Detroit City Council and the Wayne County Commission, and we got the approval of the city council on a 7-1 vote. We got the approval of the Wayne County Commission on a 14-0 vote. I spent hours in the room with the city council members and the commissioners and I showed them why this was good for the city, why the jobs and investment would be good. And they supported me, including [Councilman] Kwame Kenyatta. I feel very comfortable in a political environment, but if you're going to deal with city council, you need to be open and honest with them on the facts, and you need to involve them in the early stages. You gotta do what you gotta do to grind out five votes, but I'm very comfortable in that setting.
MT: What would your administration's top three priorities be, and how long should people wait to see those results?
Duggan: Well, certainly it would be to cut the police response time and get the streetlights fixed and take the abandoned buildings when they're first vacated and get them occupied — don't just demolish them. And I think you could see significant progress on all three of those in the first year. I do think we can better utilize the officers we have, and we could better utilize their time if we could make their in-car computers work — as far as cutting police response time. We can definitely demand accountability from the streetlight repair crews. When I was a prosecutor, I would see the abandoned houses and get them occupied — we weren't just demolishing them. So I think that in the first 12 months, we can make the material change in all three aspects, and if people in this city saw the cops showing up, the streetlights on, and the abandoned buildings start to get occupied, we would see a fundamental change in the quality of life in the city.
MT: How do you pay for that?
Duggan: You go through each of the three steps individually. The abandoned property program: When I was a prosecutor, I started the abandoned property program without a budget, and what I did was — abandoned properties were choking the life out of this city, because when somebody walked away from their home it would immediately bring down the property values of everybody else on the block. But the tax laws do not allow the treasurer to take it for back taxes for three years. I started filing nuisance suits the day it became abandoned; saying when you've abandoned a property it's a nuisance to your neighbor. I [would] file a suit and give the property owner three choices: They can sign a court order to get it fixed up and occupied in six months, that'd be great; They can knock it down themselves and keep the property, that was fine or; They could deed it to us and we'd sell it on the Internet like eBay.
By the time I left in 2003, I [had a staff] of approximately 50 people. And they were title search people; and they were boarding up the houses; and they were doing the real estate closings; and they were on the Internet — all of it paid for by the sale of the houses people walked away from. I was making $2 million a year selling apartment buildings and houses people walked away from, because what I did was I took the whole block at once. If you have three abandoned houses on the block and you knock down one of them, you haven't changed anything. We'd sue on all three houses on the block the same day; we'd take all three the same day. One would be burned down, and we'd demolish it. Then we take the other two, and then we go to the neighbors and say we're going to sell these houses next Wednesday. We go to the local church. They'd call their friends, they'd call their congregation members, and when people knew the whole neighborhood was coming back, they were spending $5,000, $10,000 — and some cases with apartment buildings $20,000 or $30,000 — and then the neighborhood started to improve.
So people who look at us and say, "Well, gee, there's no money," well, we paid for it out of the assets that were sitting there and being neglected. If you look at the police department, you've got officers who are dispatching patrol cars, who are sitting in precincts. You've got, according to Kevyn Orr's report, more than 50 officers — literally pencil and paper — filling out payroll; those jobs are done by civilians — at half the price — in other departments. You can't tell me we are getting all the service we can be out of the dollars that we have. So, before you can talk to anybody else for more money and more help, first you have to prove to them you're doing everything you can with the dollars you have available. I don't know anybody who believes the city is performing at that level, so we're going to start by taking the things that we can control and improving the service, and then we're going to go from there.
MT: Isn't that something you may run afoul of the police union over?
Duggan: Possibly.
MT: And so how are you going to deal with that?
Duggan: Well, I've dealt with it my whole life. You sit down across the table. When I took over the SMART buses through the 1990s, when it was going out of business, we had, by benchmark standards, the most inefficient maintenance garage in America. We had the most breakdowns and the most expenses, and so I did what I always do — my first week on the job — I went into the garage to see what's going on.
There were three cars up on lifts; and three guys, three card tables, people sitting around playing cards at 10 a.m.
I said, "guys, what time is lunch?"
They said, "11:30 a.m."
"Well, why are you playing cards?" It was a warm day in the spring and they were working on the cooling systems for the air conditioning and they said they're doing air conditioning today. "So what are you guys doing?"
"I'm the brakes guy; I'm the tiresguy; I'm the transmission guy; I'm the steering guy."
"So you don't know how to do cooling systems?"
"Oh, we know how, but that's not our job classification."
And so, I did what I knew I had to do — I sat down and played cards with them. And I said, "Guys, we're on the verge of going out of business here and nobody will have a job in this 800-employee organization. Why don't we have a single general mechanic classification? Where all of you pitch in on doing all of this?"
And they said, "Well, we don't want that, we'll need 25 percent fewer of us."
They're good UAW mechanics. And I say, "OK, I get that. What if we did this: I know that I've got 12 percent in actual turnover in retirements and quitting. What if I give you a two-year 'no layoff' guarantee? I'll get to the 25 percent shrinkage in two years, you give me the general mechanic classification." By the end of the card game they were in agreement. A week later, I had a signed contract with UAW. All of the mechanics were back on the job fixing all the buses, we got the buses on the road.
We made more revenue in the fare box because we were making schedule. Two years later I got a national award for efficiency in our maintenance garages. But I sat down at the table with the unions and found a win-win. Ultimately, they benefited because we passed a regional millage that has kept SMART alive to this day — and the customers won. That's what you do. You don't go in and tell the unions what you're doing. You say, "OK, You want to preserve your job, I want to deliver service to the taxpayers, how do we get both these things done?" And I'm confident that I can sit with the police union and say, "OK, I want to pay you fairly. I want to give you working equipment because I want to make sure you're safe. On the other hand, we can't afford to pay you as a trained law enforcement officer if you're doing a job that can otherwise be done by a civilian." That's the case you make.
MT: A lot has been made of the gentrification in Midtown and some of the construction happening downtown, but most Detroiters don't live in Midtown or downtown; a good portion of them live in really impoverished areas. Speak to those people and how your administration would bring that type of attention and urban renewal to more desperate areas?
Duggan: The thing is, when you've done 170 house parties, I've been in those areas day and night; every corner of the city. I sat in the house of somebody who has abandoned houses on both sides of the building where they're hosting me. … I start with the basic things: Here's what I'm going to do about the abandoned buildings in your neighborhood and here's how I think we can get there. They want the police to show up; here's what we're going to do to cut the police response time. They've got a dump in a vacant lot across the street that nobody cares about — here's how we're going to deal with the dump. They have overgrown lots, so here's what I want to do: I'm going to hire neighborhood kids to cut these lawns. I'm going to bill the property owners. If the property owner pays it, that's fine, if the property owner doesn't pay it, we're going to take the property; I'll deed it to the neighbor next door or the neighbor across the street so the people can maintain the properties and not some absentee owner who neglects them.
As you sit in somebody's living room, and they're talking about this, they come to realize the same thing: The problems facing this city were created by human beings and they can be solved by human beings; these are not unsolvable problems. And that's the conversation I'm having every day, and it's the reason why I've got 5,000 volunteers signed up in my campaign — all of them at these house parties. I've gone into neighborhoods where they've said they haven't seen a candidate for mayor in 40 years on their street. And they all end up signing a volunteer card because they may have started off thinking I couldn't relate to their problems, but by the time the night was over, they were all thinking, "We want you to come back next year," and I think they feel good that I will come back next year.
MT: Having experience at the county level and now hoping to move to the city, what lessons that you learned could you bring to Detroit's relationship with its adjacent counties, as well as the state?
Duggan: I would just start with what I just experienced at DMC, and I say this at every one of the house parties: We need to recognize that the city of Detroit is 8 percent of the state's population, and if all we do is fight with the other 92 percent we are going to keep losing the same way we have been. We can't just always attack the other folks. We've gotta find a basis for common ground. In 2010, when Snyder got elected governor and the Republicans took control of the House and Senate, there was an initiative by a group of hospitals in Grand Rapids to change the funding for indigent care — to move it out of Detroit and move a significant chunk of it out to suburban and western areas. Everybody said to me, "You don't have a chance." The Republicans are in charge of both houses and they're in charge of the governorship, and the Republican-area hospitals want to change this formula. I got in the car and I drove to the districts of the new chairs of the House appropriation and Senate appropriation committees, one of them in southwest Michigan, another one in Saginaw. And I sat down and showed them how efficiently DMC and Henry Ford and St. John were delivering indigent care in Detroit, and how we were using their money cost-effectively. I sat down with the governor and showed him the documentation that the money was being spent well. And when I finished, the House, the Senate and the governor returned every dollar back to the city of Detroit. I never once attacked anybody; I never called anybody names or marched on anybody. I just — one person after another — sat down and showed them what we were doing. The truth is, there are Republicans of goodwill in this state, there are Democrats of goodwill in this state. We need to build relationships with people of goodwill from both parties and build allies, not always be fighting. And I've been successful at every place I've been when I did that.
When you go back to the 1990s, we passed the legislation that allowed us to build Comerica Park and Ford Field. … I've always been able to work across party lines when we had common interests and I really believe there are a lot of people in this state who want to see Detroit succeed. On the other hand, when Gov. Snyder wanted to lease Belle Isle to the state of Michigan, I was very vocal against that, I thought it was bad document and a bad agreement, and certainly I've been very vocal against the emergency manager. So there some issues that on principle you have to take a stand, but there are a lot of other areas where you can find common ground, and I really think we can do it.
MT: One of the ways to secure the future of the city is through young families moving in. The best way to attract young families is through quality schools. How can your administration deal with the failing of DPS?
Duggan: One of the things I think we have to do is be honest with the citizens on what city government can do and what city government can't do. I don't think city government is in a position to take over the schools. The next mayor will have so much on his or her plate — to get the police to show up, to get the streetlights on, deal with the abandoned buildings. If you take on the school system, it would all collapse. And so I'm not in favor of the mayor taking over the schools. What I will be is the best partner the Detroit Public Schools ever had. Now what does that mean? Well, in our role, for sure it means that when these children walk to schools, they should have a safe zone where they're not walking past open and abandoned houses. We've talked about it forever, but most elementary schools in this city today still have open and dangerous homes near the schools. We're going to get those down. I started a program at DMC called Project Genesis where we hired a hundred Detroit Public Schools high school kids to work in the hospitals every summer. So we exposed these kids at the age of 15 and 16 and 17 to careers in medicine. I'd love to see all the companies in this town create those same kind of part-time and summer employments so that these kids can see what the opportunities are. And certainly I think instead of having all these independent rec centers, we may want to be partnering with schools to support after-school activities in the buildings in some kind of true joint program. And so I'll find ways to partner with the schools, but I just don't think it's realistic to think the city can actually run the schools and improve them.
MT: OK, here are a few softballs in the home stretch: What's your favorite TV show?
Duggan: Well, "Game of Thrones" [on HBO] is way up there.
MT: What magazines do you like to read?
Duggan: I read The Wolverine, I read Sports Illustrated.
MT: And what about newspapers?
Duggan: New YorkTimesevery day, along with the Free Press and the News — and, of course, the Metro Times.
This article was updated on 25 July 2013 to correct an error that ran in the print version regarding the number of white candidates in the mayoral primary. There are, in fact, three white candidates instead of one, which was originally reported. We apologize and regret the error.