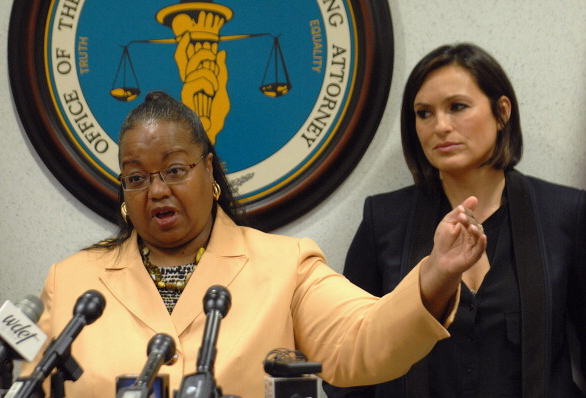 The Wayne County Prosecutor's Office says it has sent in for testing the last of 11,300 neglected rape kits dating back to 1980.
The 614 rape kits sent to investigators are the final batch of those discovered nearly a decade ago in a Detroit police storage facility. So far, the kits have led to the conviction of 130 sex offenders. They've led to the identification of more than 800 suspected serial sex offenders alleged to have committed sex crimes across 40 states. More than 270 cases are actively being investigated while nearly 770 are awaiting investigation.
Testing the forgotten kits is a multimillion dollar endeavor that began in 2010. It was then that Wayne County Prosecutor Kym Worthy sought and received funding from the Office on Violence Against Women to test a random sample of 400 kits. Based on the results of the pilot, the prosecutor's office the following year received $1.5 million from the National Institute of Justice to test an additional 1,600 kits. The Michigan State legislature set aside $4 million to test all of Detroit's remaining kits in 2013. Since then, the Michigan Women's Foundation has taken the lead in raising money to test the remaining kits, with more than $750,000 raised in private donations from people and businesses across 45 states. Testing a single kit costs $1,500, but the Detroit Crime Commission, which was appointed to allocate funds raised, was able to negotiate a rate of less than $500 per test.
The Wayne County Prosecutor's Office says rapists convicted thanks to the the testing include:
Reginald Holland: Serving a life sentence; abducted and raped four women before being identified through DNA testing.

Shelly Andre Brooks: Serving a life sentence; raped and murdered seven women.

Gabriel Cooper: Serving a sentence of 30-70 years; raped three women.

Eric Eugene Wilkes: Serving a sentence of 32-75 years; raped four women.

Deshawn Starks: Serving a sentence of 45-90 years; raped four women.

Stay on top of Detroit news and views. Sign up for our weekly issue newsletter delivered each Wednesday.