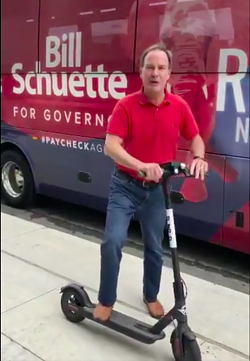 The sun was out, the birds were chirping, and if you were lucky, you might have seen Bill Schuette scooting around Detroit this weekend.
The Republican candidate for governor took to Twitter Sunday night to give a nice little plug for
Detroit's latest fad – Bird scooters.
In the video, Schuette urges Detroit visitors to see the city on two tiny wheels. With a photo of his campaign bus in the background, Schuette tells viewers "You've heard of 'Free Bird' and all of that, this is the other bird. When you come to Detroit get one of these scooters and go for a ride."
The internet, of course, viewed this as an opportunity to take jabs at the
media-shy candidate.
Giving a dated reference to Lynrd Skynrd's 9-minute classic rock jam
"Free Bird,"
Schuette's vain tempt to be hip didn't quite take flight.
Tip of the Day: When you visit #Detroit, be sure to try one of these great new Bird electric scooters! It's a blast! #PureDetroit313 #DetroitLove #PureMichigan #MIGOP #MIGOV pic.twitter.com/ngk5W2milm

— Bill Schuette (@SchuetteOnDuty) August 27, 2018
Others gave Schuette two strikes for breaking the law by not wearing a helmet and for riding the scooter on the sidewalk instead of a bike lane, two pieces of information that are provided to the user via the app upon login. One Twitter user cracked jokes for Schuette's attempt to pander to the youth vote. And some just came to sling mud.
August 27, 2018
August 27, 2018
Does that run on Flint water? pic.twitter.com/63vT3fFQse

— BlisterList (@BlisterList) August 27, 2018
Snyder already did the "nerd thing."

— Just Gina (@CheekyM18628616) August 27, 2018
Regardless of your political affiliation, if Schuette is onboard then it's safe to say that Bird scooters are already flocking to fashion faux pas territory.
Stay on top of Detroit news and views. Sign up for our weekly issue newsletter delivered each Wednesday.