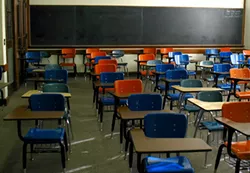 Thursday the Government Operations Committee began public debates over the future of Detroit's education landscape — specifically a set of bills detailing Gov. Rick Snyder's $715 million "rescue plan." The general gist of the governor's plan is this: DPS will be divided into two districts. One that educates the 48,000 students still enrolled in the district and one that merely exists to pay off the ever ballooning debt.
But what about schools that don't necessarily fall within DPS? Schools, like say, within the Education Achievement Authority, which was created in 2011 and is comprised of 12 former DPS schools and three charters? The potential answer to that question comes in a move that would get rid of the EAA, finally and deservedly, as the Republicans try to court Democratic support for the bill.
The EAA is a sore spot for many on the left who opposed the governor's take-over plan from the beginning. It hurt DPS's finances — since funds are allotted on a per pupil basis, it took money away from the district — and continued to set a precedent that appointed boards were the solution to all education ills.
Well, according to Senate Majority Leader (R) Arlan Meekhof, the EAA is on its way out.
"It's gone. We're not going to do the EAA again," Meekhof
told
The Detroit News Wednesday. (The governor's office told the News it couldn't confirm Meekhof's statement about the future of the EAA.)
The district, which was originally slated to be statewide but only came to fruition in Detroit (of course), has largely been deemed a disaster. Its test scores? Subpar. Its enrollment? Decreasing. What was supposed to be a turnaround district for the state's lowest performing schools has been essentially a death sentence for Detroit students trapped in the worst schools. And that's why those on the right believe getting rid of the EAA could be one way to entice the left to lend their support.
But Democrats have other problems with the governor's plans. Those come down to two words: Accountability and democracy. Under the plan, Detroiters can vote for a DPS board in November. However, that board will not have any power for two years. Rather, the district with students will be run by a board appointed by Gov. Snyder and Mayor Duggan. This appointed board will also be in charge of selecting the new superintendent of the district. The irony of this is we've seen what happens when Detroit schools don't have an elected school board (case in point: the EAA and DPS today) — it ends up in situations where it needs a "rescue plan."
While Meekhof's statement addresses one concern (the EAA), the issues of local control and oversight over charter schools linger for the minority party.
"If they want to get something done in a bipartisan way, there's a few things we've been consistently talking about, and I think if those kinds of things are in the bill, and there's some long-term sustainability, I think there's a very good chance we would support it," said Senate Minority Leader Jim Ananich, D-Flint, according to the Detroit News. "Until that happens though, they've got some work to do."