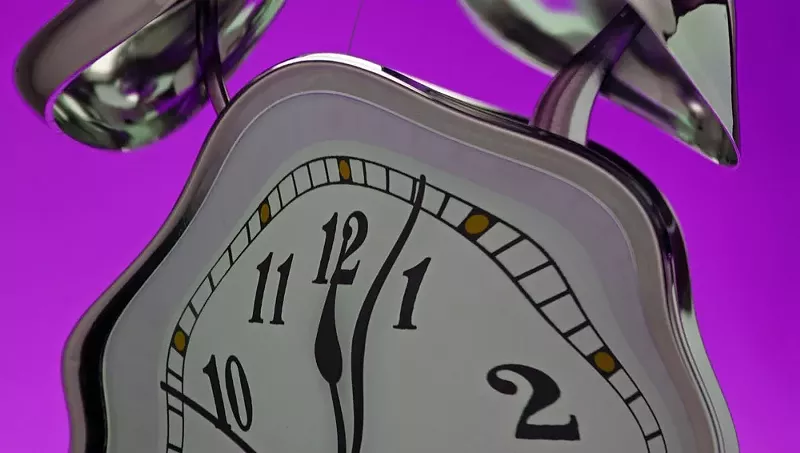 Well, shit. The Doomsday Clock — an annual assessment by the Bulletin of the Atomic Scientists that analyzes how close humanity is to global catastrophy — has been moved closer to midnight, the symbolic hour of the apocalypse. The hands were moved 30 seconds forward and are now positioned at just two minutes to midnight — the closest the clock has been to doomsday since 1953.
The Bulletin of the Atomic Scientists
made its announcement
Thursday morning, citing a variety of concerns including the recent nuclear saber-rattling by President Donald Trump and North Korean supreme leader Kim Jong Un, as well as international unease between the U.S. and Russia, China, and the Middle East.
Insufficient response to the looming threat of climate change was also once again cited as a top concern, made even worse by Trump, who believes climate change is a hoax. But this year, the scientists also cited a new threat — the erosion of trust in institutions and spread of misinformation due to the rise of social media.
Let that sink in — the unchecked power and misuse of Facebook and Twitter have caused our planet to veer ever closer to doomsday, according to scientists who have studied the negative effect of technologies for decades.
"To call the world nuclear situation dire is to understate the danger — and its immediacy," the scientists wrote in the statement.
The Bulletin of the Atomic Scientists was founded in 1945 by University of Chicago scientists who helped develop the first atomic weapons in the Manhattan Project. The clock, a combination of art and science, debuted in 1947 at 7 minutes to midnight; the furthest the hands have ever been from midnight was 17 minutes in 1991.
You can watch the Bulletin of the Atomic Scientists' announcement below: