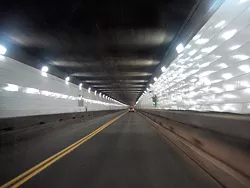 They don't call us the Motor City for nothing. Yes, we're the home of the Big 3, everyone knows that. But, you probably didn't know (or maybe I'm the only one who didn't know?) that we're also home to the U.S.'s first vehicular tunnel that connects two countries.
The Detroit-Windsor Tunnel, which runs underwater and takes drivers back and forth between Michigan and Ontario, turns 86 years old today. It's the second busiest crossing between the U.S. and Canada in the country, following Matty Moroun's Ambassador Bridge.
Of course, it's not the country's first underwater tunnel. In fact, it's the third. The Holland Tunnel that connects New Jersey and Manhattan and the Posey Tube in California beat us out for that title.