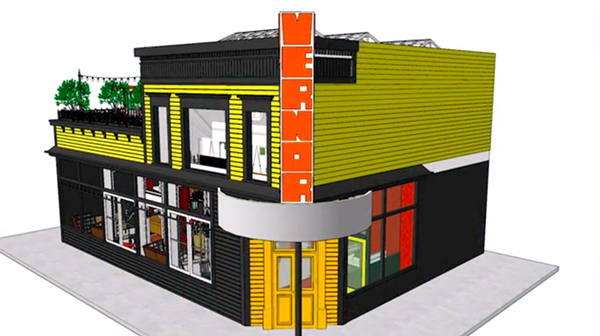 The 20-something "
Baby Gatsby
" behind El Club is hoping to transform the blighted building next to his Southwest Detroit music venue into
a cafe and community center
that will offer affordable practice space for musicians and free art classes to students enrolled in nearby schools.
Graeme Flegenheimer on Monday launched a Kickstarter seeking $50,000 to help fund the $300,000 endeavor. So far he's received thousands of dollars. But he's also received something less desirable: a social media skewering reflective of the dynamics at play in a "resurgent" city comprised mostly of have-nots.
Flegenheimer comes from money, and apparently, some
Detroiters do not like seeing people with money ask for money
, even if the contributions are voluntary and will be rewarded with some sort of prize.


But Flegenheimer, who is from Vermont by way of LA and a descendent of the founders of Pioneer and Big Chief Sugar, says the crowdsourcing campaign is necessary because he cannot get a loan or fully self-finance the effort. He'll also seek grant funding through Motor City Match. The Vernor Cafe, Flegenheimer says, is not a money-making venture, but primarily an effort to do good and give back to the community that has played home to his music venue next door.
Still, complaints over how he'll finance the site have opened up a
broader debate
over the role of new businesses established by outsiders in neighborhoods with strong ethnic identities like Southwest. Residents expressed their concerns on Facebook:
Original post:
I would be happier about this if I didn't know first hand how +90% of our Southwest Detroit residents don't feel as if El Club is for them.

When a neighbor tells you they don't want to go with you to a show because they don't feel comfortable, who's at fault? How can we develop inclusively? How can we make it inviting and beneficial to those who have kept up the community you're moving in and the people who are being pushed out?
Comment:
Sadly, places like this bring in those who find coming to SWD an adventure.
Comment:
Went to El Club for the first time the other week. I really irks me how they appropriate aspects of Chicano/Latino culture as "aesthetic" for the club.

The grill of a classic Cadillac is hanging above the bar. They're not celebrating the culture so much as commodifying it.
Original poster responds
:
I think we're ready for it, we're ready to do it, but this ain't us doing it. There's something to be said about who we're letting lead and benefit.
The tensions run high because, according to lifelong Southwest resident and Damon J. Keith Center for Civil Rights Race and Journalism fellow Martina Guzman, many in the community view El Club and its expansion as a harbinger of the gentrification wave that's gobbled up whole neighborhoods throughout the city in recent years.
"I've seen Latinos who've grown up in this neighborhood and want to get out of their parents house and rent a place be completely priced out," says Guzman. "They've seen this happen in other neighborhoods, they've seen [part of their] neighborhood start to be called Corktown ... so they see this encroachment, and when you begin to erode identity, it's very problematic."

She and other locals note that Flegenheimer is not necessarily a part of the problem. He has done some great things for the surrounding ethnic community, they say, by booking local and national Latino acts and hiring some Latino locals. Elena Herrada, an activist who's lived in the area since birth, says Flegenheimer is also generous with use of El Club, and hosts neighborhood groups and throws benefits.
But Guzman says with the community center/cafe expansion, she would like to see Flegenheimer go a bit further than he has with the venue.
"One of the big issues in Detroit is that people build things thinking they're great but they don't take the community into consideration," says Guzman. "You [have to ask] does the community want this, will they be involved in the construction or will they be employed there. If only one group of people is benefiting, then that's not fair to the community in which the business sits. And that kind of inequality is what creates tension in the city of Detroit."

She says she'd also like to see the Vernor Cafe hire Latino staff specifically for front-of-the-house positions to help locals feel welcome.
Flegenheimer says he plans to take such concerns into consideration as he moves forward with the project and has scheduled a Monday, 3 p.m. meeting at El Club to hear what community members want from the space.
What he probably doesn't want to hear (or see) is people who won't be involved rush to judgment about him and his intentions on social media.
"It's funny," he said in an email to
Metro Times
. "People just want to be mad & envision their own narrative of me & not budge...But I am open & want to serve the neighborhood."
Herrada suspects there is a separate dynamic at play as some people eye the Vernor Cafe site with reproach.
"People who have [moved here] more recently often take on the appropriation of gentrification," she says. "I will see a lot of people who may be here for six months longer than somebody else claim the other person is a gentrifier."