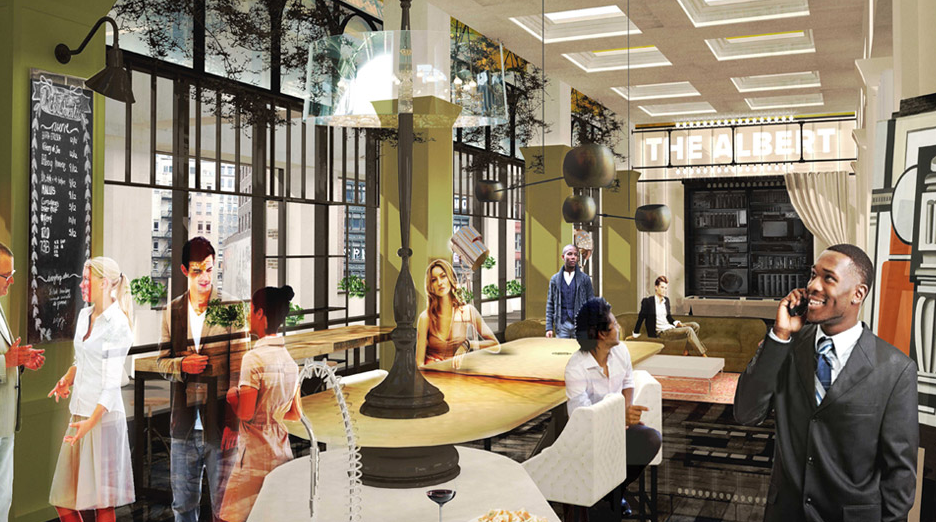 Gentrification reared its head in Detroit again this week. We were taken by surprise when we discovered a video showcasing young millennials talking about how great the proposed rehabilitated lofts inside an Albert Kahn-designed Capitol Park building at 1214 Griswold, unimaginatively dubbed "The Albert," will be.
The sheer audacity of a marketing campaign portraying a group of twentysomethings glibly proclaiming "Detroit is my generation" had the Hits crew writhing in pain as we watched similar contempt spread across social media crowds and the local commentariat. At first, we thought it was the previous night's hangover delivering a punishing migraine, yet quickly realized it was the atrocious Albert promo causing the throbbing pain in our heads.
Of course, Detroit needs residents. But the fact a marketing team sat around a table and decided this concept was a good direction — especially considering the building's new owner had to boot the senior and disabled tenants previously living there to make the Albert a reality — left knots in our stomach. No one at the drafting table thought this would upset some locals? Really?
But the showcase of these younger and — likely — wealthier residents being drawn into the city hit an even stickier point this week. A report from the left-leaning think tank D.C. Fiscal Policy Institute caught our attention, as it ranked Detroit as one of the top 10 U.S. cities with high levels of income inequality.
The report drew from Census surveys conducted between 2006 and 2012 of the 50 largest cities. The average income of the top 5 percent earners in the city was compared to the average of the bottom 20 percent.
The top 5 percent in Detroit, which landed in the 9th spot, have an average yearly income of $159,587, while the bottom 20 percent have an average bring-home pay of only $3,848, the report found.
As The Washington Post notes, the report relies on data collected from questionnaires sent to American households, meaning the findings are subject to a margin of error that's less precise than decennial census figures.
For the Debbie Downers of the Hits, the number for Cleveland, which ranked eighth, made us feel just as bad: The top 5 percent, on average, earn more than $180,000, the bottom-fifth, $4,175.
The report notes a "quarter of the largest U.S. cities have an average income for the bottom 20 percent of $11,000 or more." While the Hits may not be a business-savvy bunch, we certainly feel the D.C. Fiscal Policy's report should be of relevance to the future landlords and "job creators" of Detroit's renaissance. At least before they start thrusting a bunch of relatively high-earning twentysomethings in our face again.