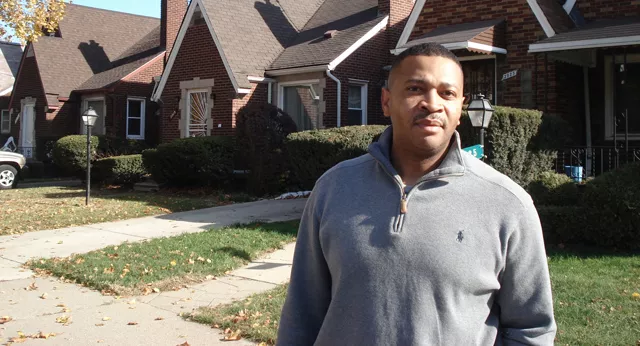 At a recent open house in Mexicantown, Tyrone Carter examined colorful maps and renderings of what a redevelopment of that area's 20 blocks could look like. It's a plan envisioned by nonprofit groups, schools and foundations to continue the revitalization of the area a few miles southwest of downtown.
Carter saw a greenway link to Corktown, dilapidated buildings turned into public art projects, vacant spaces transformed into public squares and outdoor markets and other renovations of the area known to many as "southwest Detroit."
Then Carter went home to his southwest Detroit — the 48217 ZIP code that is farther southwest and separated from the rest of the city by the Rouge River. And he wondered if future city planning, specifically the Detroit Works Project, will regard his community with any of the same enthusiasm.
"We don't want anything outside of what anybody else has or is getting," says Carter, a retired Wayne County Sheriff's Department lieutenant who lives near Outer Drive and I-75. "48217 is a very viable and stable community."
Carter follows Mayor Dave Bing's Detroit Works Project. But he and other residents in his area say they don't hear much about their corner of the city. They wonder where their neighborhood fits into that plan to possibly redirect city services and encourage relocation in certain areas, and to otherwise redesign how the city operates with a declining population.
Carter says he hears what he calls the "more premier" areas of the city getting guarantees they won't be ignored. "It's always places like Palmer Woods, the University District, East English Village, Rosedale Park," he says. "It's almost like we're shut out of the process."
City officials say they know what's down there. Federal dollars garnered through the Neighborhood Stabilization Program will allow the city to acquire houses, rehabilitate some and demolish others in the area, says Karla Henderson, Mayor Bing's group executive for planning and facilities
The eventual Detroit Works plan — scheduled to be released sometime in mid-2011 after a series of meetings earlier in the year — will address the area. "When we go back out to the community in January, February and March, we'll talk specifically about 48217 and what investment and what initiatives we know are going on," Henderson says.
Calling the 48217 zip code south-southwest Detroit would be accurate. Bordered by the Rouge River to the north, the ZIP code is geographically separated from the rest of Detroit and borders the suburbs of Melvindale, Lincoln Park, Ecorse and River Rouge on its other sides.
Several of the 48217's neighborhoods have stable, well-kept housing with block club signs welcoming visitors; other areas are more dilapidated. The area known as "The Hole," is notorious for its criminal enterprises. Oakwood Heights, formerly occupied by mainly Italian immigrants, has many run-down and some vacant homes. A greater share of people in the 48217 own the homes they live in than do in the city as a whole, according to U.S. Census data, and a lower percentage of families live below the poverty line than in other areas of Detroit. Per capita income is nearly 25 percent higher for people in the 48217 than in the city as a whole.
Located largely along the Rouge River and the west side of I-75 is some of the city's heaviest and most prosperous industry: Marathon Oil, the salt mines and the Detroit Water and Sewer Oakwood Pumping Station.
But the commercial success of that industry has come at a price for residents. University of Michigan environmental scientists earlier this year released a study based on federal air pollution data finding that the 48217 was Michigan's most polluted ZIP code when measuring emissions from major polluters weighted for the chemical toxicity in their releases.
The area dramatically demonstrates the challenges the Bing administration faces as it tries to develop a master plan for the city's future. Should the residential area in 48217 — a relatively small and older population than Detroit as a whole — be phased out in favor of an industrial complex? Should the area's geographic separation from the rest of the city and its distance from downtown justify cutbacks there in city services, such as police protection, fire response, trash collection and libraries?
Or should the 48217 neighborhoods with borders along the suburbs be some of the areas to receive priority under any redesign, reprioritizing or restructuring plan?
"We want to look at the human element," Henderson says. "All of that becomes part of the decisions."
Wayne State University law professor John Mogk describes three Detroits, each with a different set of circumstances, needs and likely future outcomes. First is the downtown-riverfront-Woodward Corridor, which he says is improving but accounts for just about 10 square miles — or 7 percent — of the city's geographic footprint. "It's scheduled to receive continued public and private funding and attention in the years ahead," Mogk says.
The second Detroit is the region outside of Detroit, the seven-county area. "It has increased slowly in population, industry and jobs for more than half a century," Mogk says. But the 48217 is part the "third" Detroit, the remaining 93 percent of the city's acreage that he worries about: "It is in this vast urban area where Detroit's problems are acute and its negative image has been shaped."
Any successful Detroit Works-type plan, according to Mogk, must address the majority of Detroit that is most like the 48217.
One of the aspects that might need to be considered is the recent investment in the area's infrastructure. Can the city afford to redirect future resources when so many recent ones have been sent to the 48217 area?
For example, the Michigan Department of Transportation has invested nearly $127 million since 2002 in projects on Interstate 75 and Fort Street located at least partially in the 48217 ZIP code, says spokesman Rob Morosi. Another $42 million project — the replacement of the Fort Street lift bridge over the Rouge River — is slated for 2013 or 2014.
Some projects are more clearly aimed at local residents. The Detroit Water and Sewage Department recently spent roughly $169 million on the Oakwood Basin & Pump Station on the Rouge River, and is in the midst of a $59 million sewer improvement project for the neighborhood that will help prevent flooded basements
Other investments suggest a future industrialization of the area. Marathon Oil is in the midst of a $2.2 billion improvement and expansion.
These ongoing and planned investments highlight one of the difficulties of the Detroit Works Project: How will the Bing administration use such measures to determine an area's future in the plan?
Whatever the outcome, Joe Rashid, a community organizer with the Southwest Solutions nonprofit group is watching. "It's an area that fascinates me," he says. "It's hard because I see a thriving community down there. ... They're strong, they're organized," he says. "But then you see how many people are getting sick and how bad the asthma rates are. It is almost like, could those people be repopulated into another area?"
Kim Sommerville and Jackie Vandergrift don't want to move. Both were born and raised in the area that used to be filled with factory workers and tradespeople who earned enough money to maintain their modest homes and send their children to college. Sommerville and Vandergrift, now middle-aged, have returned to the 48217 after living in other states.
They like the strong housing stock parts of the area have, and they value the "friendliness" of the people. But they don't like that they need to leave the ZIP code to shop, dine or find recreation for their children. And they wouldn't mind if Detroit outsourced police, fire, trash collection or other services to neighboring suburbs.
"We want to make the value of 48217 go up," says Sommerville, a para-educator at Mark Twain Academy, a Detroit Public Schools elementary facility. Kurt Metzger, director of Data Driven Detroit, says keeping residents in an area with some of the 48217's characteristics is paramount to the city's survival.
"I think the immediate thing is to get your best neighborhoods stabilized and to make sure you don't lose any more people," Metzger says. "You've got to hold on to the educated middle class you have, small as it is, but you can't afford to lose any more."
But he admits, that can't be done in all areas of the city because the resources just aren't there. "You've got to triage. You've got to prioritize," Metzger says.