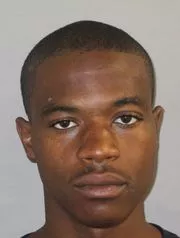 Updated 11:25 a.m., Aug. 19, 2015:
Wayne County Prosecutor Kym Worthy announced Wednesday that no charges would be filed against Mitchell Quinn,
WWJ reports
.
"I have concluded that the totality of the evidence supports Agent Quinn's versions of the events and that Terrance Kellom's fatal shooting was justified by the law of self-defense and the defense of others," Worthy said. "And as a result, no charges will be authorized against Agent Quinn in this case."
Kellom's father, Kevin, has said "they executed my son in my face," and maintained that Terrance was not wielding a hammer at the time of the shooting. However, Worthy said that evidence disproves the family's version of events.
What evidence that was remains to be seen. Stay tuned for more details.
Originally posted by Ryan Felton on May 15, 2015:
The U.S. Immigration Customs and Enforcement (ICE) officer who fatally shot 20-year-old Terrance Kellom hit the Detroit resident once in his back, according to an attorney representing the Kellom family.
Oak Park-based attorney Karri Mitchell said he saw an entrance wound in the back of Kellom, who died last month after a multi-jurisdictional federal task force — known as the Detroit Fugitive Apprehension Team (DFAT) — executed a search warrant on the Kellom's home in Detroit's west side. April 27 inside his home.
After entering the home around 1 p.m. on April 28, ICE agent Mitchell Quinn fatally shot Kellom. Detroit police have said Kellom approached the officer with a hammer; Kellom's father has disputed the account, saying his son was unarmed.
"He was shot multiple times, one of which was in his back," Mitchell told
MT
.
Wayne County Prosecutor Kym Worthy has been tight-lipped about the the incident.
Worthy's office Wednesday said it has received paperwork from the Michigan State Police and Detroit Police Department Homicide Task Force's joint-investigation into the fatal shooting of Kellom. The county medical examiner's office has withheld releasing Kellom's autopsy report until the investigation is complete.
Attorney Mitchell said Worthy's insistence that releasing Kellom's autopsy may jeopardize her office's investigation must be respected.
"Hopefully, she'll be finished with her investigation within the week," he said. "I told the family to just remain patient.
He added, "Ms. Worthy has done a good" with similar cases in the past, "and we're confident she's going to do the right thing in this one."
---
Ryan Felton is an investigative reporter for the Detroit Metro Times.