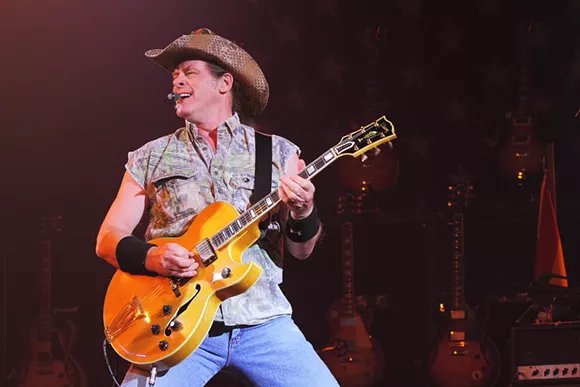 Just when your eyes came back to a normal position after hearing that
Kid Rock
's name is floating around to run against current Michigan senator Debbie Stabenow, it seems that another Michigander wants a shot for a Senate seat, too.
That's right, folks. The Motor City Madman Ted Nugent himself is thinking about a possible run in 2018, according to
Fox News
.
In an interview with
The Daily Caller News Foundation
, Nugent said there is "nothing I wouldn't do to help [Michigan] in any way I can," and would not rule out a bid.
Just to give you a taste of Ted Nugent's political discourse, he once said this
during a concert in 2007
:
"Obama, he's a piece of shit. I told him to suck on my machine gun. Hey Hillary [Clinton], you might want to ride one of these into the sunset, you worthless bitch."
Oh, and then back in 2012 at a NRA convention in St. Louis he said "if Barack Obama becomes the president in November, again, I will be either be dead or in jail by this time next year."
Last time we checked,
conservatives wanted celebrities to stay out of politics
, but since our President's last job was deciding whether to fire Gilbert Gottfried or Vivica A. Fox from a reality TV program, Kid Rock and Ted Nugent on a GOP ticket sounds about right.