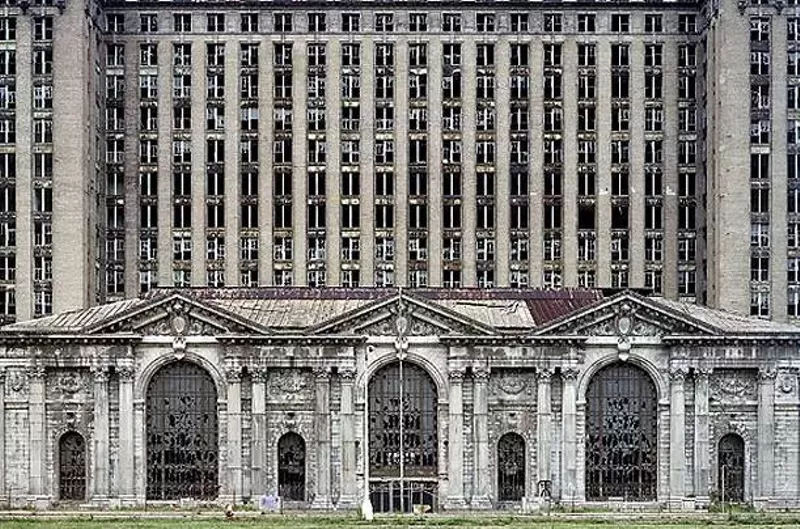 Every big Detroit development comes at a cost to the public, and Ford's much ballyhooed plan to rehab the old Michigan Central Station is no different.
The Dearborn-based automaker revealed this week that it expects its 1.2 million-square-foot Corktown campus to cost $740 million. According to
The Detroit News,
the company hopes to pull a third of that — or $250 million — from public sources.
Ford tells the
News
it will seek a range of local, state, and federal tax incentives for the project. More specifically, according to
Jalopnik
, the automaker is working with Detroit officials to create a "renaissance zone" for the campus, which reportedly includes a waiver of income and most city property taxes. The tax incentives will be tapped over the course of the next 34 years.
Public money for major projects is controversial in Detroit, where longtime residents have been displaced by the taxpayer-subsidized revitalization of the city's greater downtown. Right now, developers on projects that cost upwards of $75 million and receive significant city investment are required to strike a Community Benefits Agreement (CBA) with neighboring residents — the idea being that the public should get more out of a project than it invests in it, whether that be jobs or affordable housing options. But an
analysis
of the half-dozen or so CBAs struck between the city and various big developments found them to be largely ineffective, as the agreements are non-binding and developers' promises are often outlined in vague terms.
Moreover, as
Jalopnik
points out, Ford has $16.8 billion in cash, so it likely doesn't need that $250 million in quite the same way the schools and other public systems from which it will be taking money do.
Stay on top of Detroit news and views. Sign up for our weekly issue newsletter delivered each Wednesday.