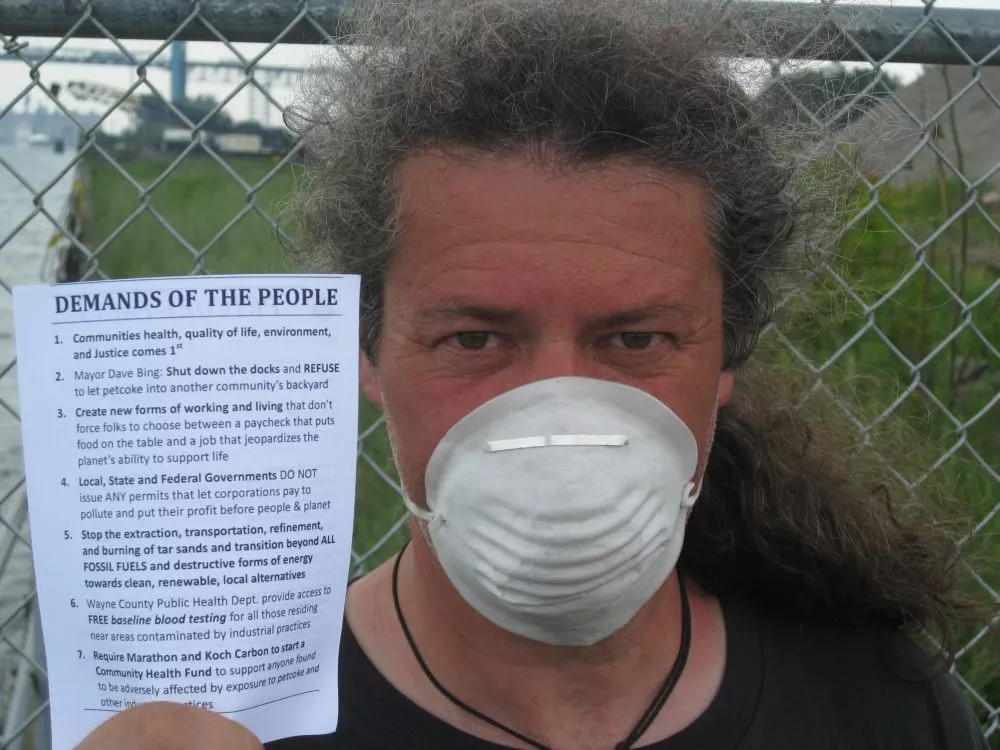 DETROIT — A HUMAN BLOCKADE by protestors on Monday morning successfully kept trucks from dumping loads of petroleum coke at a site adjacent to the Detroit River.
The material — a byproduct of refining bitumen from Alberta, Canada's tar sands — has been a source of growing controversy in the city since March, when public attention began to focus on the fact it was being stored at two locations adjacent to the Ambassador Bridge.
As we reported online last week, one of those two mounds of the coal-like material, often called petcoke, has been removed from a site near the intersection of West Jefferson Avenue and Clark Street in southwest Detroit.
"We re-evaluated the situation … and decided to concentrate on our core business," Patrick J. Stutka, an official with Nicholson Terminal & Dock Co., told council members.
That leaves the mound of petcoke being held by the company Detroit Bulk Storage at a site near Jefferson Avenue and Rosa Parks Boulevard.
One concern of residents and protestors regarding the dumping of petcoke is a failure by Detroit Bulk Storage to obtain the requisite permits from the city of Detroit and the state Department of Environmental Quality.
Daniel Cherrin, a spokesman for Detroit Bulk Storage, says the company was not aware permits were required. Cherrin says the company is now working with both the city and the state to come into compliance.
"We want to focus on positive solutions," Cherrin said when asked about Monday's blockade, which featured about 50 people. "We want to work with community leaders and activists to find solutions and move forward."
It is an issue that extends far beyond the borders of Detroit, and includes more than just where and how to store the petcoke being generated at the Marathon refinery in southwest Detroit.
There is controversy surrounding every step of the process: From the massive environmental damage under way in Alberta, to the piping of the tar-like bitumen (which has to be heated and then diluted to be viscous enough to pump through a network of pipelines), to the refining of what critics call the world's "dirtiest" fuel, and finally, to the storage and burning of petcoke itself.
Detroit isn't the only place where activists are attempting to toss a monkey wrench into some aspect of the tar sands process.
On Monday, The Oklahoman newspaper reported that protestors were claiming to have shut down construction of a pump station near Seminole, Okla., in "what they are calling their biggest action yet in opposition to the Keystone XL pipeline."
"Eight people locked themselves to equipment and a work trailer on the construction site east of Seminole early Monday morning, as activists across the country began a week of protests billed as 'Fearless Summer,'" the paper reported.
The Keystone XL pipeline, if approved and constructed, would bring tar sands bitumen from Canada to Texas, where it would be refined.
Also on Monday, the online news service MLIVE reported that a Kalamazoo man celebrated his 35th birthday inside an empty oil pipe to protest Enbridge Inc. replacing five miles of crude oil pipeline in Marshall.
An Enbridge pipeline ruptured in 2010, creating what's been described as the worst inland oil spill in U.S. history. About 1.1 million gallons of diluted bitumen seeped into a creek that acts as a feeder for the Kalamazoo River. Cleanup costs are reportedly nearing $1 billion and the cleanup is not yet complete.
One of the difficulties in cleaning up an environmental disaster involving this type of petroleum product is that the diluted bitumen is heavier than regular crude oil, causing it to sink rather than float on top of water, like crude oil, which would normally be skimmed off.
In yet another action, the CBC reported last week that a group of about 80 protestors had shut down construction atan Enbridge pump station in rural Hamilton, Ontario.
Back in Detroit, protestors were relaxing in the shade and discussing their next step after the showdown Monday morning.
"It was intense," said Elizabeth Chiravalli of Kalamazoo. "Everybody stood really, really strong together. The truck kept moving closer and closer, but everyone held their ground."
Police were present, but no arrests were made.
Protestors intended to camp out in the area so that they could attempt to again block delivery of the petcoke Tuesday.
State Rep. Rashida Tlaib, a Democrat who represents southwest Detroit, told News Hits on Monday that she's dismayed the city of Detroit is continuing to allow the petcoke to be dumped at the riverside site before permits are issued.
"My residents are getting blight tickets every day," said Tlaib. "If I were to go and dump a load of this stuff at the Manoogian Mansion, I'd be in handcuffs."
"This was a huge victory today," said protester Stephen Boyle on Monday. "As for tomorrow, I see potential and promise, but there are no guarantees."
News Hits is written by Curt Guyette. Contact the column at 313-202-8004 or [email protected]