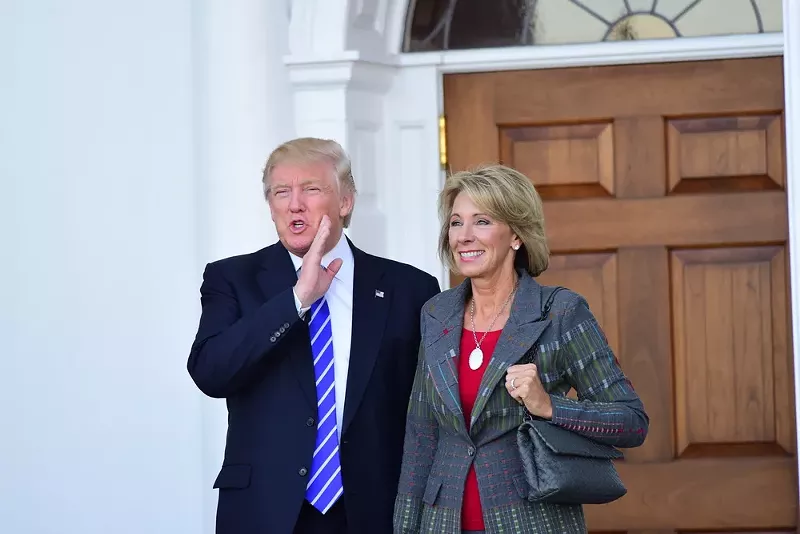 This year has felt a bit like a never-ending haunted house filled with frightening surprises, chainsaws, and killer clowns.
It should not come as a surprise, however, that the inexperienced billionaire U.S. Education Secretary Betsy DeVos has been
more
than hands-off when it comes to ensuring the safety of America's 51 million children returning to school this fall amid a global pandemic. In fact, she's in favor of President Donald Trump's call to hastily reopen schools for in-person learning and defund those schools that don't. (Though
neither Trump nor DeVos has the sole power to do so
.)
An
NBC News
report found that DeVos is essentially dodging opportunities to meet with public school advocates, including meeting with those representatives of The School Superintendents Association, which represents superintendents in 49 states. The group's associate executive director for advocacy, Noelle Ellerson Ng, told NBC News they haven't heard from DeVos at all this year.
"We would stand ready to answer that call. That's my job, to be a direct liaison to the federal government," Ellerson Ng said. DeVos' press office claims she has been in "constant contact" with governors and superintendents but NBC News was unable to find a record of such events in her schedule. She's also declined appearances at a House coronavirus subcommittee which would determine how to safely reopen K-12 schools.
Cool
.
As for her public schedule, well, it's been pretty empty as of the last few weeks. And there's nothing coming up this week, either, even though some of those schools that have already reopened for in-person learning are reporting positive coronavirus cases. One Georgia high school
was forced to close
for cleaning Monday after nine COVID-19 cases were reported after the school reopened without enforcing mask policies or social distancing. (A student who posted a photo of the school's packed hallways on Twitter was suspended for doing so, though
the suspension has since been reversed
.)
So what
is
on DeVos's docket? Well, a whole lot of remote work at her 22,000-square foot
McMansion
in Holland, Mich., where she is protected by a highly unusual "around-the-clock" security detail courtesy of U.S. Marshals Service, which will have cost American taxpayers an
estimated $26 million
by the end of Trump's first term.
According to a spokesperson with the Education Department, DeVos has been splitting her time between Michigan, Washington, and "road trips," including a recent roundtable event in Ohio, where she advocated for private school vouchers and visits to a recently re-opened elementary school in North Carolina with Vice President Mike Pence.
Thank you to Mrs. Combs' 4th Grade Class! We are so proud and happy to see you all back in school! @Thales_Academy has taken careful steps to keep everyone healthy and we are grateful for the countless hours put in to open the academy and get kids back in the classroom! pic.twitter.com/KgtuHLDPt2

— Mike Pence (@Mike_Pence) July 29, 2020
Both Pence and DeVos applauded the school's reopening. "Thales is a great example more schools could emulate,"
DeVos said of the school
during the visit. "You didn't wait for guidance from the Department of Education. You didn't ask for permission." (After their visit,
several students at a nearby campus tested positive for coronavirus
and were asked to quarantine.)
Oh, and at one of these North Carolina roundtables DeVos actually said the following: "
The secretary of education isn't the nation's superintendent.
" Oh, oh! She also believes "
kids are actually stoppers of the disease and they don't get it and transmit it themselves.
"
Stoppers?
Stoppers
.
If you find yourself among those
65% of voters who disagree with Trump's reckless threat to defund schools
that opt to not reopen in the fall, then you may want to take a moment to, from a safe distance, salute a mobile billboard criticizing DeVos' lack of action during this health and education crisis, which will roll through Michigan this week.
Sponsored by
Protect Our Public Schools
, a Michigan-based advocacy group, the billboard truck features three LED screens calling on DeVos to stop gambling with children's lives.
"Secretary DeVos: Stop hiding in your mansion. Start protecting our kids," one slogan reads.
The billboard has already passed through Detroit and will head to Lansing, Grand Rapids, and Holland, home of DeVos' lair.

Stay on top of Detroit news and views. Sign up for our weekly issue newsletter delivered each Wednesday.