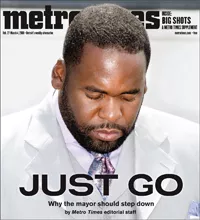 Local news outlets confirm
that the United States Supreme Court has declined to hear the appeal of former Detroit Mayor Kwame Kilpatrick's conviction, which saw him sentenced to prison for 28 years.
Kilpatrick had argued that
his lawyer in the original trial had a conflict of interest
, and his current attorney argued that
federal agents were given excessive leeway in prosecuting him
. The court rejected the appeal without comment. There is nothing unusual about the court not issuing a comment in this case.
Of course, there will be plenty of comment on this locally, as it's one of the biggest come-downs in local political history. A son of career politician Carolyn Cheeks Kilpatrick, Kwame's rise to power began in 1996, with his election to the Michigan House of Representatives, where, in five short years, he became the first African American House minority leader.
It was then, in 2001, that
he approached Metro Times
about his run for Detroit's mayoralty, billing himself as a modern-day David. He claimed to have gone down into the basement of his Russell Woods home to pray, and, just by chance, opened his Bible to the second book of Samuel, Chapter Five, and read how David was just 30 when he united the tribes of Israel and was made king.
"That day, I decided to do what God wants me to do, instead of making excuses," Kilpatrick said.
From the vantage point of today, we might cast a bit more doubt upon the story of Kwame, his prayers, and his serendipitous discovery, at the age of 30, of Samuel II, 5:4. Many a holy roller has risen in politics only to end in ignominy. It's almost as if those who are full of the faults of pride, wrath and lust slip more easily into the holiest of costumes, and become used to using the spiritual to throw people off the scent.
Perhaps somebody at
MT
had an inkling of this 15 years ago, when our finished piece included these lines:
As David illustrated, no human is perfect. Though he conquered Jerusalem and was remembered as a righteous, God-fearing leader, David also had that unfortunate fling with Bathsheba and then had her husband killed to cover it up. Indeed, God gave David many blessings at a tender age, but he was not always pleased with how the young king used power.

And what will be the moral of Kwame Kilpatrick's quest? No one can say yet, because his is still a parable in progress. We do know, though, that his story has the sort of beginning that legends are made of.


Kwame still has some options, including hopes of a presidential pardon, but today's events offer a hint of finality to this morality tale. And since it's customary to mumble a bit of scripture in any eulogy, even a political one, we'd go with Proverbs 11:2 — "When pride comes, then comes disgrace; but with humility comes wisdom."