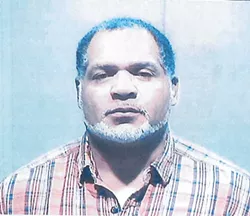 If you've ever been beyond Detroit's greater downtown, you're probably familiar with the loose boats and tire piles that dot the city's landscape. You may ask yourself, who the hell would put this crap here? Illegal dumping is littering at its most brazen.
Thanks to the handiwork of Detroit police, however, today we have a window into the world of one of the many people who treat Detroit like a trash heap. The latest alleged perp is 53 years old, and, like the majority of illegal dumpers in the city, he's from the suburbs.
Police say serial dumper John Evans was first caught in the act in 2015, when he rented a flatbed U-Haul truck to ditch 75 tires in an alley behind a well-trafficked businesses corridor on West Warren. But a misdemeanor conviction, apparently, wasn't enough to deter him, and police say Evans was back at it by September of this year, when he was spotted dumping tires north of Corktown in Core City. Private video footage revealed the area near Buchanan and West Forest was a preferred spot for Evans: He would visit the location five more times to dump hundreds of tires before getting caught in early October.
Evans was arrested this week and, as a second time offender, faces up to a year in jail and fines of up to $5,000. He was also issued more than $10,000 in blight tickets.
The charges come as Detroit officials escalate their fight against the scourge of illegal dumping. In September, Mayor Mike Duggan announced that hidden cameras would be set up at more than a dozen hot spots for illegal dumping throughout the city. He said that every week, crews collect about
600 tons
of debris left behind by offenders.
At that point, dozens of dumpers had been caught over a two-month period in which officials were testing out the cameras at three sites. Duggan said two-thirds of them were from outside of the city.