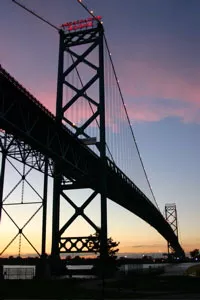 No matter how hard some may try to forget him, Manuel "Matty" Moroun, the billionaire Ambassador Bridge owner, is going to continue generating headlines for years to come. Between the proposed construction of a new, publicly owned span between Windsor and Detroit, and Moroun's still-a-longshot bid to build a twin Ambassador bridge, this is fact.
Nevertheless, it piqued our interest Friday to see this: the chairman of an authority tasked with ensuring the multi-billion dollar Gordie Howe International public bridge built has recommended Canada launch a probe on whether to buy the Ambassador.
The Windsor Star reported that Dwight Duncan, chairman of the Windsor-Detroit Bridge Authority, has already met with Moroun and his son, Matthew, on two occasions.
"We had two good meetings," Duncan told the newspaper. "I recommended to the government of Canada that it's worth further discussions."
The meetings commenced after Matthew Moroun emailed the Toronto Star in February, according to the report, and said he was "inspired" by Canada's new adored prime minister, Justin Trudeau. Duncan told the Windsor Star he was sent to figure out if Moroun was legit.
"To the extent we can manage the risks and remove impediments, at a minimum we have to look at what the alternative are," he said.
The development follows several tiffs over the last year, including a rather comical debate over whether the Ambassador is actually crumbling. (Spoiler: it is.) A federal judge last month also voided the last remaining counts of a long-running lawsuit filed by Moroun, in an effort to spike the Gordie Howe bridge. But, rest assured: Moroun's legal battles are far from over.
The Star noted a significant point that, for now, has been left untouched by local media in town: The proposed 2020 completion date for construction of the $2.1 billion Gordie Howe bridge has essentially been reduced to myth — despite what officials last month may have suggested.
"Do the math," the Star said. "Eighteen months from RFP to construction. Forty-two months for construction. That's closer to 2022."