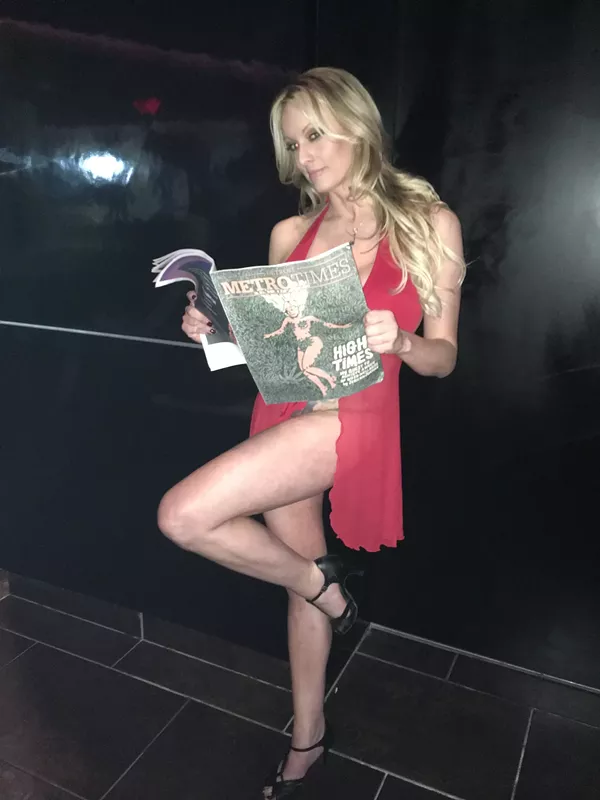 The DJ's voice echoed throughout the club dripping in neon, mirrors, and nude women — "Are you ready to meet the most famous woman in the world?" The slew of Detroit police who had just raided the club to verify cabaret licenses had finally left and the crowd was anxious to see the woman who's rocked the world by taking a stand against the President of the United States. A congregation of fans from the packed room swarmed the glowing red, white, and blue catwalk and erupted in cheers as Stormy Daniels appeared draped in a short red cape and g-string and began to grind up on the stripper pole to Lenny Kravitz's "American Woman."
Daniels possesses the kind of marketing genius that Trump fans admire, leveraging the current controversy to book jobs and appearances including her "Make America Horny Again" tour at strip clubs across the country, which is how she found herself at Truths Gentleman's Club on 8 Mile and Mound Road.
After canceling two previously scheduled appearances due to an illness and travel issues, Daniels was finally in Detroit. Every booth in the club was full of admirers, from apparent Trump fans wearing MAGA hats who said they were there to "enjoy what Trump enjoys," to the local Liberty Riders motorcycle club, and the die-hard who drove three hours one-way to get his personal Stormy DVD collection signed by the star. She graciously received each person who paid $20 to meet her (a fee the club keeps, according to Daniels' security), and offered bracelets to supporters that read "Standing up to bullies is kind of my thing. #TeamStormy." It's a message that provides some insight into the political drama Daniels has walked into outside of her life as an adult entertainer.
Daniels, who was born Stephanie Clifford, is an award-winning adult film star, actress, stripper, screenwriter, and director who says that she engaged in a consensual sexual relationship with Donald Trump more than a decade ago and is suing to nullify a non-disclosure agreement she signed on October 28, 2016, eleven days before the presidential election. In addition to the agreement, Trump Organization lawyer Michael Cohen personally paid Daniels $130,000 for her silence and has claimed that neither Trump nor his campaign knew about the payoff. Trump has consistently denied the affair, despite photographs showing the two together at the golfing event where they allegedly hooked up.
In a recent "60 Minutes" interview, Daniels said that she accepted the money and agreement because she was concerned about her career and her family stemming from a confrontation she had with an unknown man who threatened her the first time she tried sell the story of the affair to
In Touch Weekly
in 2011, which was scrapped after Cohen threatened to sue the outlet. Despite the threats, Daniels decided to go to the press and tell the truth about the encounter, to, in her words, "set the record straight."
While Daniels persistently claims that her public allegations are about "telling the truth," rather than the money, there's certainly room to believe that the motivation for Daniels coming forward is a combination of both. After all, she might need all that cash considering that Trump's lawyer is going after her for an outrageous
$20 million
in damages for violating the hush-agreement.
But as she raises her profile with a national tour, the adult film star claims to want nothing to do with politics. Last night, as Daniels greeted fans, she steered clear of an eerily convincing Trump impersonator brought in by the club. Earlier in the day, she told told
Fox 2 Detroit
that she was looking forward to her show but wanted "no politics" involved.
While her evasion of the "political" at her performances seem unrealistic considering her new brand of patriotic eroticism is tied to her ongoing legal battle with the President of the United States, Daniels doesn't want to be defined exclusively as Trump's mistress. Nor should we reduce her to as much. When she hits the stage topless and in a g-string, and dozens of men make it rain around her, it's not because Trump slept with her, it's because she's beating Trump at his own game and doing it on her own terms.
Unlike Trump, Daniels is a self-made success who hustled to the top by gaming a system that typically exploits women to the benefit of men. Trump, a billionaire with every advantage and opportunity handed to him, allegedly used his influence and wealth to persuade a woman half his age to sleep with him by making false promises about a potential opportunity on TV. When he learned that she was going to discuss their affair publically, something she has every right to do, he ordered someone to physically threaten her and employed his team of attorneys to impose a gag rule upon any outlet that considered giving her a voice. Eventually, his lawyers believe they've silenced her with a payoff and non-disclosure agreement Trump himself was too ashamed to sign. It's a deal that consistently takes advantage of Daniels to the benefit of powerful, manipulative men.
Normally, the story would end here and we could just toss it in the fire alongside Trump's other
19 allegations of sexual misconduct
we've essentially ignored as a country. However, Daniels decides that enough is enough. At great risk to herself, her family, and her career she takes on one of the most powerful men in the world. Daniels goes on national television in front of 22 million viewers and tells them that the president likes to be spanked, is bad in bed, and so afraid of her that he sends his cronies to threaten her — quite a blow to a man who
brags
about his sex life, uses missiles as a metaphor for his
penis
, and claims to be the
toughest
president on world powers such as Russia. In addition to publicly embarrassing him, she's
bringing down
his lawyer and fixer, who represents some of our country's finest scumbags and has inspired a
call for
a federal investigation into the legality of Trump's campaign financing practices. All of this while she launches an anti-bullying campaign (one of Melania Trump's social issues), and promises to donate the $130,000 of hush-money she received to Planned Parenthood. Not only has she one-upped America's most famous troll, she is virtually unfazed by online harassment that has tormented the
thin-skinned
president. She has flipped the script on the abuse of power and is unapologetically making it work for her and her career. A true American icon.
This is why Stormy Daniels matters. Not because she was the President's mistress. Not because of the controversy, and not because she's a porn star. But because she speaks truth to power. Despite the vicious attacks from the President of the United States, court proceedings, online harassment, death-threats, and a Detroit police raid, Daniels worked for the American people last night. She commanded her audience with the finesse of a true master, rolling around in cash that was showered upon her atop a floor lit up in red, white and blue. Eager men lined up with money in their teeth and Daniels crawled over to each and every one of them, placed their heads in between her magnificent breasts, and sucked the money from their mouths with her hard-earned cleavage. God bless Stormy Daniels.

Jex Blackmore is a Detroit-based activist and political performance artist.