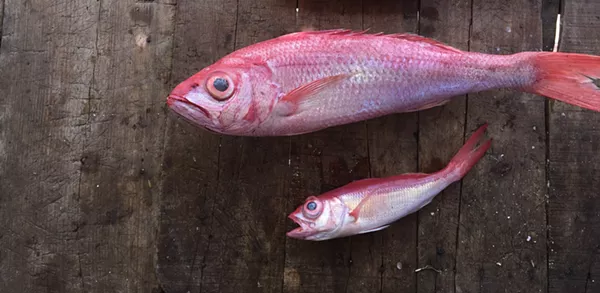 Mulenga Harangua had dragged me down to the riverfront to go fishing. We used to fish together a lot when in our younger days, but I drifted away from it. Actually, I couldn't catch a thing and just stopped doing it.
The sun was shining, and a cool breeze blew along the river, keeping things temperate. The end of my pole bobbed, and I snatched it up to reel in a perch that was desperately fighting for his life. As I held it up, the small perch continued its death struggle, sunlight flashing off its wet scales.
"I got one," I said, proudly displaying my catch.
"Yeah, you got a small one," Mulenga intoned. "That's not much of a dinner."
"It's a start," I defended my magnified minnow.
Mulenga snatched up his pole and reeled in a nice, fat bass. "Now that's a fish," he preened as he held it up. "I caught a bunch of them when they were running a couple months back. I left them with a friend to keep in his freezer for me, but when I went back to get some he had eaten them all. Said something about a family fish fry. I won't be doing that again."
He tossed his big bass into a bucket with my small fry. The difference was dramatic.
"I guess we should throw back the little ones," I said, tossing the perch into the water. It quickly disappeared into the depths.
"And pan-fry the big ones," Mulenga said. "So it looks like Duggan is the big fish in the mayoral election. Are you ready to pan-fry him?"
"Pan-fried, grilled, or roasted, one way or the other he's going to be mayor for another term," I said.
"What?" Mulenga exclaimed. "You're not supporting Coleman Young 2?"
"It doesn't matter if I support him or not," I said. "He ain't gonna be the mayor."
"Why not?"
"Well, for one thing, he's not Coleman Young 1," I pointed out. "He may be in the state legislature like his daddy was, but he really hasn't distinguished himself. Now Coleman 1, he had a long history of fighting for the little people. He was a populist and a union organizer and civil rights activist. He was a Tuskegee Airman and defied the House Un-American Activities Committee. This guy built his political base over the decades. Coleman 2 is Coleman Lite."
"So you're a Duggan supporter," Mulenga said after casting his line back in the river.
"I ain't saying that at this point," I demurred. "But he is going to beat Coleman 2. Duggan got 67 percent of the vote to Coleman 2's 27 percent. I don't think that's going to change. And there's something else. You remember Humphrey Jones, the guy that moved to California?"
"Yeah."
"He was in town a few weeks back and I had lunch with him," I said.
"Man, you had lunch with the Hump and didn't invite me?"
"Hey, he called me and we went," I said. "You make yourself hard to find. It generally takes a few days of searching to find you. I didn't have time."
"Man, I can't believe Hump came to town and didn't look me up," Mulenga complained.
"At lunch we were talking about how the city has changed since his last visit seven or eight years ago," I recalled. "He was blown away by one thing — streetlights. He said the last time he was in town he was waiting for the lights to come on. Now they are, and that's why he's going to get re-elected."
"So all it took was a few streetlights to get him another four years?" Mulenga said.
"Well, he's only really been mayor for two-and-a-half years, what with the emergency manager running things around here," I pointed out. "But yep, all it took was a little light in the darkness to get folks behind him."
Mulenga pulled a lighter from his pocket, flipped the button and held the flame in the air. "I've got a light," he said as the breeze blew it out.
"You may have a light, but you don't have the Black Slate and the Wayne County Democratic Black Caucus endorsing you," I pointed out. "Besides, you were talking about running for mayor last winter and didn't do anything."
"None of them went for Coleman 2?" Mulenga couldn't seem to believe it.
"Black Slate brought up how well he works with black people," I said. "These days, if you're black you need allies. We're not going to do well alone, what with all these neo-Nazi alt-right folks raising their heads with the president behind them. We need every friend we can get."
I had a quick bite, but couldn't hook the fish. A big liner just passed by, and waves from its wake waved from the river.
"It's been a long time since Coleman 1 was around," Mulenga mused. "Maybe folks just don't remember him."
"They remember," I said. "As much as folks still complain about him — for no good reason — they still remember. But the bigger issue is that Coleman 2 hasn't really done anything to make us remember him other than having the same name as Coleman 1. These days just being the black guy's not going to cut it."
"What do you mean? There are plenty of careers that have been built on being the black guy," Mulenga protested. "I've built my whole existence on being the black guy."
"I rest my case," I said, giving Mulenga a conciliatory pat on the back. "Besides, Duggan is the incumbent; he's already won this thing once."
"So he just gets to waltz back into office?"
"Well, looks like he's got his dancing shoes on," I said. "Unless something really crazy happens, like the Russians hacking his email, I think that's what is going to happen."
"You know what the sad thing is?" Mulenga asked.
"What?"
"I don't think we have any prominent, successful politicians around here with a long history of fighting for the people like Coleman 1 did," he bemoaned.
"Damn straight," I said. "In fact, we got damn few good politicians that have come up the ranks. Is there a future mayor on city council right now? Or on the school board or county commission? Maybe there's a police officer who could be mayor, although it didn't work out for Gil Hill, Benny Napoleon, or Warren Evans."
Mulenga began wrestling with his fishing pole. It bent almost in half as he struggled with whatever he'd hooked.
"It's a really big fish," he crowed.
I gave him a dispassionate look. "Maybe it's a politician."