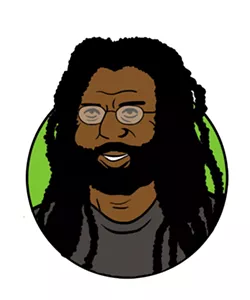 Over the next year we'll be hearing a lot about the violence that erupted in cities across the nation in 1967. From New York to Houston to Portland, Oregon, there was fighting in the streets as African-Americans rose up in rebellion against the racist conditions they were forced to exist under.
In Michigan alone, there were rebellions in Pontiac, Flint, Grand Rapids and, most significantly, Detroit — where 43 people died, 1,189 were injured, 7,200 were arrested, and 2,000 buildings were destroyed over five days starting on July 23. Prisoners were detained on Belle Isle, in the basement of Hudson's department store, and on buses in addition to the jails.
The carnage in Detroit was the most deadly and destructive of the era, so it makes sense that the Charles H. Wright Museum of African American History is spending a year addressing issues related to the 1967 events and rebellions before and after. United We Stand: The Year of Rebellion is the thematic underpinning of programming across numerous platforms at the museum, starting with the installation of a Charles McGhee sculpture that took place this past week, as well as the "Through the Fire: The Detroit Rebellion of 1967 History Tour." There will be more: a film series, book signings, lectures, and other events to look at rebellions here and elsewhere, such as in Cuba and Haiti.
McGhee's magnificent sculpture, United We Stand is important to the launch of this yearlong focus.
"Unveiling this piece at this time commemorates 1967, but it also furthers the conversation that the issues were not solved," says Juanita Moore, president of the Wright Museum. "They can't be if we don't solve them together … There are lessons that we could have and should have learned at the time that we haven't. We have an opportunity and obligation to get it right."
Not learning those lessons, then, could be the reason we're stuck in the mire of pervasive poverty, police violence against blacks and Hispanics, immigration issues, and a white supremacy movement — all wedge issues in this year's presidential election.
Getting it right starts with basic concepts, such as making the connection between events here and elsewhere over time for what they were. An internet search of any of the violent upheavals of the 1960s will find that they are labeled as riots; senseless violence.
That is among the first things addressed by the Wright Museum in gathering a number of statements by scholars and historians who explain the difference between riot and rebellion, pointing out numerous examples over history. There are aspects of a riot within those rebellions, but that was only a part of the story, the only part that gets much examination or credence in the halls of authority.
"We want to get at the truth," says Charles Ferrell, director of public programs at the CHW. "That's what the institution is standing on. To tell our history grounded in research and scholarship."
Some of that research leans on President Lyndon Johnson's Kerner Commission.
"This is our basic conclusion: Our nation is moving toward two societies, one black, one white — separate and unequal …What white Americans have never fully understood — but what the Negro can never forget — is that white society is deeply implicated in the ghetto. White institutions created it, white institutions maintain it, and white society condones it," the commission's report states.
Apparently much of America took that report about as seriously as the Republican Party took their own 2012 conclusion that the party needed to open up and be more inclusive of nonwhite people. This year's Republican candidate kicked off his campaign with a hateful diatribe against Mexican immigrants.
Maybe that's the kind of thing Moore refers to when she says we have an "obligation to get it right." We haven't gotten it right yet. In fact, U.S. Rep. Steve King, a Republican from Iowa, recently suggested on television that whites have done more for civilization than any other group — a basic tenet of white supremacy beliefs.
The Wright Museum programming goes far beyond the '60s. A program on Aug. 27 observes the 185th anniversary of the Nat Turner rebellion with the film Nat Turner: A Troublesome Property, along with the speaker Dr. Melvin Peters. Another scheduled program looks at the Haitian Revolution, a successful anti-slavery and anti-colonial insurrection that led a cash-strapped France to sell the Louisiana Territory, thereby changing the size and shape of the United States.
It's ambitious to take on these subjects, but as Ferrell says, "We view ourselves as a national museum, a global museum."
A film in spring 2017 addresses the Detroit Police STRESS (Stop the Robberies, Enjoy Safe Streets) units from the late 1960s. Those units, which ran roughshod over blacks in Detroit, were a major issue that led to Mayor Coleman Young's slim victory over John F. Nichols in 1973. Young was determined to bring the numbers of black officers on the force up to a 50-50 ratio with whites.
I had my own little run-in with a STRESS unit back in 1970 when a friend and I were stopped while walking down the street and held with four shotguns pointed at us while we were searched. When they determined that we didn't have any "needles" in our possession, they jumped back into their cars and screeched off. My knees were shaking so bad I had to sit on the curb until I calmed down.
The Detroit narrative that most white people — many of whom don't even remember the events — in the area tell each other is that in 1967, the black people went crazy and just burned the place down. It's a simple, easily digested story that doesn't really examine root causes and motivations. And this propaganda explains why Detroit is in its present condition. It gets folks off the hook because "they did it to themselves."
It's similar to the propaganda being used to discredit today's Black Lives Matter movement. If it can be tied to violence taking place near it, or the acts of disturbed individuals, then that will discredit the movement, justify mass arrests, or worse.
"They want to call Black Lives Matter 'terrorists,'" says Ferrell. "We need to move away from that as quickly as possible. We need to open up a dialogue."
I missed the rebellion. I was away at Boy Scout camp, though had I been here, my parents would have locked me in the basement to keep me safe. A lot of black families in Detroit battened down the hatches and rode it out inside their homes. The majority.
Even so, the conditions that led to the rebellion affect us all. There will be a lot of attention given to the summer of 1967. We like to mark 50th anniversaries — so the media will do some special reports, there will be programs in some schools, and community groups will mark it in their own ways. No one will address it with the depth, breadth, and thoughtfulness that the Charles Wright is bringing.
And that is sorely needed in these days of poisoned water, water shutoffs, food insecurity, emergency managers, high urban unemployment, Muslim baiting, and rampant gun violence.
"When you start to understand the longevity of it and the sacrifices that were made, it will make people even more committed," Moore says. "What you really would like to have is that it wouldn't even be necessary to teach these lessons again, not to have to still solve the problem."
The 91-year-old McGhee has seen it all over and over: lynching, Jim Crow, Freedom Rides, civil rights, assassinations, mass shootings, and more. Yet he can still create a sculpture, the largest of his storied career, themed United We Stand.
Let's all stand with him. United.