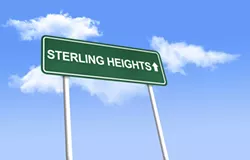 Once residents of Sterling Heights expressed their anti-Muslim views at public meetings regarding the building of a mosque on 15 Mile between Ryan and Mound roads, the Department of Justice has stepped in and has filed a lawsuit saying that Sterling Heights officials catered to the fears and views of its anti-Muslim residents.
The
Free Press
reported that many residents said extremely anti-Muslim things like "Remember 9/11" and "they're cutting people's heads off; they kill our soldiers." One resident even went as far as saying they didn't want to "be near people like this."
In addition to residents freaking out over the Mosque, the lawsuit claims that elected officials also expressed some not-so-friendly views, too. Sterling Heights Mayor Michael Taylor asked if the mosque could be "less Middle Eastern" and more "generic," whatever the hell that means.
If you remember back to the summer, late night TV host
Samantha Bee
traveled to Dearborn to talk to Muslim leaders in the community to see how the community lives so peacefully. Turns out, the only group of people who are causing a ruckus in Dearborn are anti-Muslim groups. Go figure!
The city did note that it was the first in Macomb County to join "Welcoming Michigan," an organization representing new refugees and immigrants who chose Sterling Heights to be their new home, as well as a cultural festival that celebrates diversity that happens every year.
You can find a full report of the lawsuit
here
.