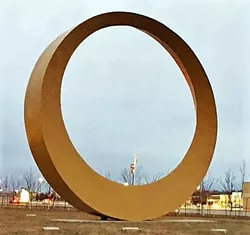 It's a bird. It's a plane. It's a $300,000 Golden Butthole on a median across from a shopping mall in Michigan's fourth largest city — and it needs a name.

Sterling Heights made news in January after constructing a 35-foot-tall steel and aluminum circle along a bustling shopping thoroughfare in an attempt to re-brand the city by appealing to residents, motorists, and even, tourists. The city introduced the world to its gaping monument as the "Golden Icon" as it is along what is called the city's "Golden Corridor." Naturally, the internet saw an opportunity and slid right in.

Welcome to The Golden Butthole of Macomb County Facebook page.

Initially, the page originated as a way to draw attention to the communities disapproval of the taxpayer-funded (f)art piece and quickly became a joke-generating dumping ground. Since its incarnation, it has attracted over 10,000 likes and even some check-ins.

While the city has leaned into the joke (Mayor Michael Taylor even said their intention was to make a "splash" with the design,) they have decided to pinch off the Golden Butthole madness by launching a naming contest of its own.

The contest announcement, which went live via the city's Facebook page Monday and has amassed over 600 submissions, was posted with a video praising the two-month-old monument.
"It makes me so happy every time I drive by it," Mayor Taylor says of the icon. "I just love that everybody driving down this road is looking at that thing."
The video includes several local business owners expressing their love of the city's unofficial backdoor, one woman even erupts into song. Others allege the video is a "propaganda hit piece" and that the icon has "already been named" by the city's constituents: "It's forever known as the Golden Butthole and no naming contest will change that."
The Golden Butthole of Macomb County Facebook also shared the news of the city's plans to officially name the icon
Submissions are open until Friday, March 22 at 5 p.m
. The city will select its three favorite names which will then be shared via a Facebook poll. The public will be able to vote from March 25-28 and the city will announce the winning name on March 29.
To submit your names, visit the submission form
here
. May the most golden butthole win.
Stay on top of Detroit news and views. Sign up for our weekly issue
newsletter
delivered each Wednesday.