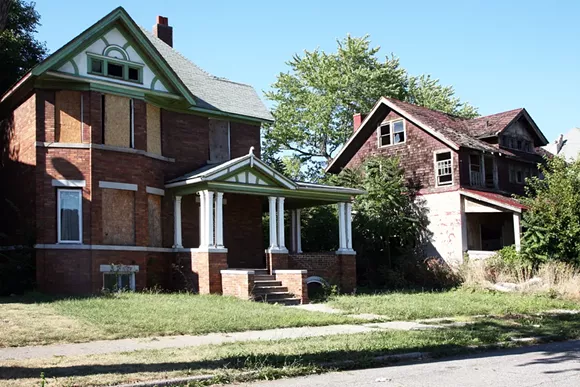 A state review of Detroit's federally funded demolition program has found that the city improperly billed $7.3 million in expenses, though Mayor Mike Duggan
is agreeing to only pay back just over a million of that.
"The 1.3 million were mistakes that were made that, you know, were just flat-out wrong. They were first brought forward ... in October, 1.1 million of it," Duggan told reporters during a news conference Tuesday. "We've authorized the withdrawal of that money."
The Detroit Land Bank Authority found those improper billings through an
internal review
and in October vowed to tighten controls to prevent future problems.
The remaining $6 million of alleged improper billings is mostly linked to non-competitively bid contracts the city awarded early on in its blight removal program. A document from the state shows that more than $4 million stems from change orders that were made in excess of an initially agreed upon "unit price" with a
group of contractors
. A letter from the Land Bank to the Michigan Homeowner Assistance Nonprofit Housing Corporation (MHA) describes the expenditures in question as "the result of reasonable and necessary decisions made in good faith ... to achieve the very demanding contractual demolition deadlines."
How much of the disputed money the city will have to pay back will be decided through arbitration.
While the review by MHA and the Michigan State Housing Development Authority is in its final stages,
a federal investigation into Detroit's demolition program continues
. The Special Inspector General for the Troubled Asset Relief Program and FBI are looking into questionable bidding practices and spiraling costs associated with the program.
Over the past three years, Detroit has received more that $250 million in federal Hardest Hit funding for its blight removal program. More than 10,000 homes have been demolished.