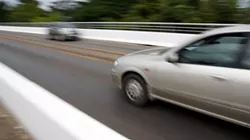 Drivers will be able to blaze through some rural Michigan highways at speeds up to 75 miles per hour now that Gov. Rick Synder has signed a bill to increase the speed limit.
Yesterday
MLive reported
that the "main bill requires the Michigan Department of Transportation and Department of State Police to raise speed limits to 75 miles per hour on 600 miles of rural, limited-access freeways if a safety and engineering study deems it safe."
So, there is that one little caveat.
Speed limits will also potentially be changed for gravel roads in counties with populations over 1 million, where they would be decreased to 45 miles per hour. Also, rural truck line highways could see the speed limit raised to 65 miles per hour.